Pawz Natural Rubber Dog Boots
Extra Small - Orange
12 Boots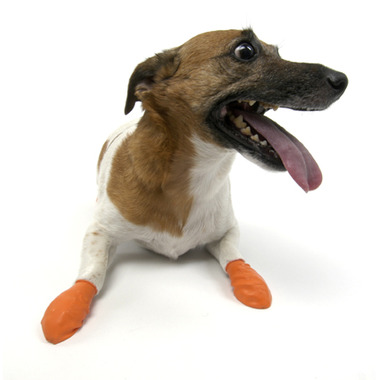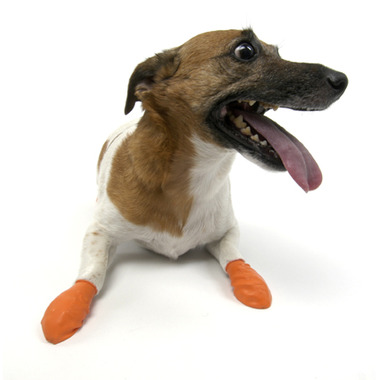 Pawz Natural Rubber Dog Boots
Extra Small - Orange
12 Boots
Pawz is the world's only disposable and reusable, waterproof dog boot. Made of natural rubber, Pawz are 100% biodegradable. They are designed to go on easily and fit securely without zippers or straps. Fashionable yet durable, Pawz offers serious paw protection.
Pawz is the most natural-feeling boot your dog can wear because without padding your dog feels the ground, providing a needed sense of security. Like a sock, Pawz moves with your dog, allowing full paw motion and maximum comfort. And imagine never losing another expensive dog boot again! Pawz come 12 in a package and each boot may be worn many times.
Advantages:
serious protection, disposable, reusable, waterproof, 12 per box, bends with paw, absolutely stays on, biodegradable, inexpensive, dogs love them, vet endorsed, groomer endorsed,
easy on / easy off, earth friendly
Uses:
ice and snow, salt, liquid chloride, lawn chemicals, pesticides, fire ants, mud and clay, pad rashes, allergies, sand irritation, dog run bacteria, furniture and carpet stains, traction control, post-surgical infection, post-grooming soil, swimming pool liner tears, hot pavement
How To Measure Your Dog's Paw:
For the best fit, measure from the bottom of the big heel pad to the tip of the longest toe nail. If the paw is in-between two sizes, select the larger size.

Pawz Dog Boots should fit securely around the leg and comfortable around the paw.
Kathy:
more than a year ago
I love these rubber boots! Once you get use to them, they take me less than minute to get them on. He loves them because they are super easy to get on (he doesn't have to patiently wait to go for a walk) and they keep his paws protected during the winter (I think he secretly likes to slide around in them on the ice too!). Since he is a smaller dog, one set of boots lasts me the whole season!
Page
1