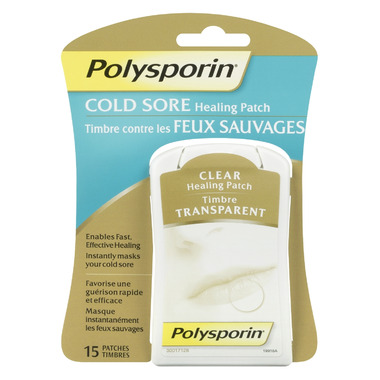 15 Count
Polysporin Cold Sore Healing Patch
is rated out of
5
by
221
.
---
Description
Polysporin Cold Sore Healing Patch uses hydrocolloid technology to effectively treat the cold sore. The patch forms a protective barrier that contains the virus and enables fast effective healing. Instantly hides, actively heals.
Directions for Use:
Apply POLYSPORIN Cold Sore Healing Patch at first sign of an outbreak. When the patch starts to detach from the skin, remove it and replace it with a new one until cold sore is healed. Patches should be used 24 hours a day. On average, the patch will stay on for approximately 8 hours. You do not need to remove the patch every 8 hours, only when it begins to detach.
How to Apply:
Wash hands. Ensure skin is clean and dry. Do not use in combination with cream as the patch may no longer stick to the lesion to provide full treatment benefits.
Remove applicator from wrapper and hold ends using both hands.
Gently pull each end of applicator, following the arrows, until adhesive side is half-exposed. Take care not to touch the adhesive side of the patch.
Gently press the half-exposed part of the patch with a finger to firmly place over the cold sore.
Slowly pull end of applicator down and away from the skin in a smooth rolling motion until the patch slips from the applicator. Make-up or lipstick can be applied over the patch. Wash your hands after application.
Removal:
If the patch stays on, do not remove or change it. When the patch starts to detach, a new one should replace it. Remove the patch by stretching it along the skin (as opposed to pulling it away). Do not reuse patch to avoid infection of the wound and spreading of the virus.
CAUTIONS:
Do not use inside the mouth, on mucous tissue or to treat genital herpes. Consult your pharmacist or doctor if the cold sore becomes severe and/or an outbreak lasts unusually long.
Shipping & Returns
Rated

5

out of

5
by
Kal7
from
Wonderful
I love this product! I have been dealing with cold sores my whole life and I have tried every product available to deal with them and so far this is one of my favourite. I always wished I could just put a bandaid on to hide them, and finally someone designed just that not only does this help to hind the cold sore and allow you to applie make up to it, it sooths the itching and burning and the spreading of the cold sore. When I am sleeping at night I don't have to worry about touching the cold sore or the spreading of it with the patch helping to cover it up. I am so grateful for the Polysporin Patches to make suffering from cold sores a little easier.
Date published: 2016-10-30
Rated

5

out of

5
by
AB123
from
AMAZING!!!
I have gotten cold sores since I was a teenager and have tried abreva and all sorts of other creams. These patches are the best thing that I have ever found! They are a bit tricky to get on and off a first but once you get the hang of it, it's fine. I put one on when my cold sore started and I'm now on day 3 and it's almost gone! The patches are hardly noticable and much nicer than gross sloppy creams. I always feel like the only thing people see when they look at me is a big cold sore but these help hide them so I'm not so self-conscious. It's nice to keep it contained as well so you don't accidentally touch it. LOVE, LOVE, LOVE these!!
Date published: 2014-06-29
Rated

2

out of

5
by
Linda
from
Good idea but leaves a slight pink scar on the lip line
I get a cold sore from time to time and I've used Zovirax (a prescription cream#. I decided to try this #Polysporin for Cold Sores) because Zovirax doesn't hide the sore itself. The first couple of days it seemed to work well. However, on the third day, I notice that the flesh underneath start to fall off and there was some pain. I took it off and it took 2 weeks to heal the sore. This was much longer than if I used Zovirax. For Zovirax, it would only take approximately 5 days to heal and no scaring. Now there is some scaring around the lip line and I can feel some tenderness where the cold sore was. If you have sensitive skin, I would not recommend it.
Date published: 2014-01-02
Rated

5

out of

5
by
Malibu24
from
I SWEAR BY THIS STUFF!
This product has been my saviour! I have tried everything - even Doctor prescribed medication for my cold sores and NOTHING has worked until now. I am so grateful for the kind people at Polysporin for inventing such an amazing product! It's great - not only does it hide your cold sore, it heals it while it's working. My cold sores disappear within 4 days, as opposed to the painful 2 weeks it normally is without the patches. The only thing I ask is that there be different sizes of patches for those unsightly cold sores that grow and grow. That would be amazing. Anyone who has wrote a negative review on here is clearly using them incorrectly because these things actually WORK! THANK YOU TO THE STARS AND BACK!!!!!!!!!!!!!!!!!!!!!!!
Date published: 2014-11-28
Rated

5

out of

5
by
Caroline676
from
Lifesaver
I got this product when I was 3 weeks postpartum and trying to be sure my newborn wasn't exposed to my cold sore. I've tried creams and prescription medication and this patch was my absolute best experience when treating a cold sore. It protects the sore from the elements, glassware/mugs, hides the sore, reduces the scabbing stage and (in my case) sped healing. It's now my go-to treatment. In response to some of the other reviewers re: removing the patch, I always wait until the patch is loosening before removing it. Attempting to remove it while still fully adhered is painful (and contraindicated by the instructions!). HUGE fan. Hope these are always available in stores.
Date published: 2015-01-11
Rated

1

out of

5
by
Char234
from
Good at hiding thats it
I bought this product a long time ago but it just didn't seem like it worked well but two days ago I woke up to the tingle and i found the remainders of these so I tried it. It seriously is fantastic at covering the thing I was out all day and I didn't feel like it was a problem at all. But at night when I took it off I had a group of cold sores that was in the entire circle of the patch!! So obviously I haven't put another one on and I don't plan to. I guess it did so well at containing the spread that it just spread inside the circle so now I have a hugely swollen lip that is very sore. I can't recommend it because I would prefer to just have a regular sore then having a bunch of sores with a swollen duck lip!
Date published: 2016-01-20
Rated

2

out of

5
by
LK
from
Caused a second one to develop!
I have used these patches once before and had good results, however this time, a second sore developed right beside the first one, this has never happened before. I applied the first patch as soon as I realized the sore was forming, removing and re-apply as necessary, but never leaving it uncovered. A day and a half later a second sore, directly beside the first has emerged. I'm quite concerned as like I said, I have never had more than one at a time before, and am worried it is going to spread across my entire lip. It does do a good job of disguising it, and does help with the pain, but at $20 and now neeing to wear two at all times I'm not sure it's worth it.
Date published: 2014-10-26
Rated

5

out of

5
by
NicoleA
from
WOW!!
I haven't had a cold sore this big in years!! From the corner of my mouth to my nose, it was massive! It took three of these patches to cover up :( The pain stopped, the tingling was gone, I was shocked!! I've used every cold sore medication on the planet, nothing has ever cleared up a cold sore this fast, made me feel human again, not like I should be in a bell tower some where ;) The only criticism I may have would be that makeup doesn't stay well on the patch Other than that You have my everlasting gratitude Thank you Thank you so very much!!
Date published: 2013-11-24