Polysporin Plus Pain Relief Antibiotic Cream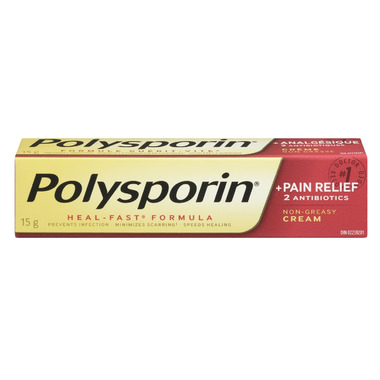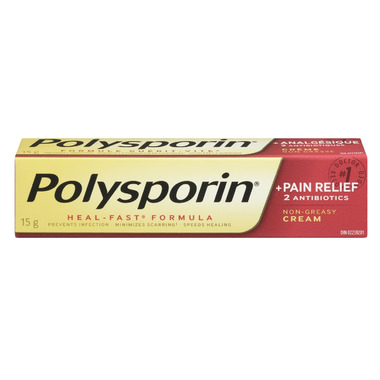 Polysporin Plus Pain Relief Antibiotic Cream
Polysporin Plus Pain Relief is a HEAL-FAST Formula that provides infection protection to speed healing.
Features & Benefits:
Best suited for minor cuts, scrapes and burns
Non-greasy cream absorbs quickly to allow drying
Odourless
2 Antibiotics plus lidocaine hydrochloride
Appropriate for all ages
Directions for Use:
Cleanse: Clean affected area thoroughly.
Treat: Apply POLYSPORIN Plus Pain Relief Cream to the area 1 to 3 times daily.
Protect: Apply a sterile bandage, such as BAND-AID Brand Adhesive Bandage, if available.
Medicinal Ingredients (per gram):
10,000 units Polymyxin B (as Sulfate), 0.25 mg Gramicidin, 50 mg Lidocaine Hydrochloride.
Non-medicinal Ingredients (alphabetically):
methylparaben, mineral oil, petrolatum, polysorbate, propylene glycol, water, wax.
CAUTIONS:
For external use only. Avoid contact with eyes; if this occurs, rinse thoroughly with water. Do not use over large areas of the body, in deep or puncture wounds, on animal bites or serious burns, or for more than 7 days unless directed by a doctor. If irritation occurs discontinue use and consult a doctor.
Kathy:
more than a year ago
This is a great product unless you have sensitive skin. I used it on a cat scratch and it caused a very bad allergic reaction ... itching that spread everywhere ... it was terrible. I had to go on prednisone to relieve it. So just be careful ... now I stick to the regular polysporin without the topical pain reliever.
Page
1