Province Apothecary Heal Eczema Kit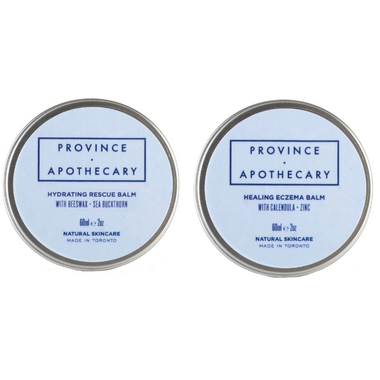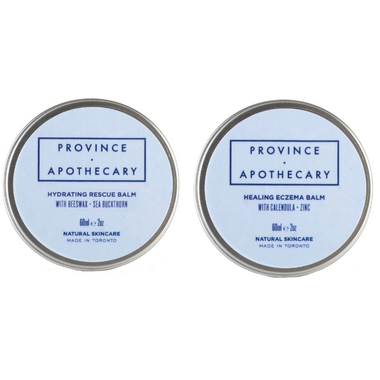 Province Apothecary Heal Eczema Kit
The Province Apothecary Heal Eczema Kit is perfect for eczema, psoriasis, and extremely dry skin. Use the eczema balm on irritated, itchy, and dry skin to relieve symptoms. Use the Hydrating Rescue Balm daily to help hydrate and repair the skin.
Includes:
Healing Eczema Balm (15 ml)
Hydrating Rescue Balm (60 ml)

Directions:
Apply the Eczema Balm to the dry, red, inflamed, and itchy areas 2-3 times per day.
Cover area with cotton clothes or a piece of gauze to help the balm penetrate and form a protective barrier that helps the skin heal.
Apply Hydrating Rescue Balm to your skin once your eczema has calmed to prevent future outbreaks.
Avoid using essential oils, shea butter, or cocoa butter on your eczema.

Ingredients:
Healing Eczema Balm: Extra Virgin Olive oil* [infused with Calendula flowers*, Plaintain leaves*, St. John's wort flowers*, Comfrey leaves*, Oregon Grape root*], Hemp oil*, Flax Oil*, Zinc oxide, Beeswax*, Rose hip oil*, Borage oil*, Sea Buckthorn oil*, and GMO-Free Vitamin E. *Certified organic ingredient.
Hydrating Rescue Balm: Extra Virgin Olive Oil* Infused with Calendula Flowers* and Comfrey Flowers*, Hemp Oil*, Flax Oil*, Beeswax*, Rose Hip Oil*, Evening Primrose Oil*, Sea Buckthorn Oil*, Vitamin E. *Certified organic ingredient