Province Apothecary Healing Balm for Eczema
With Zinc & Calendula
15 mL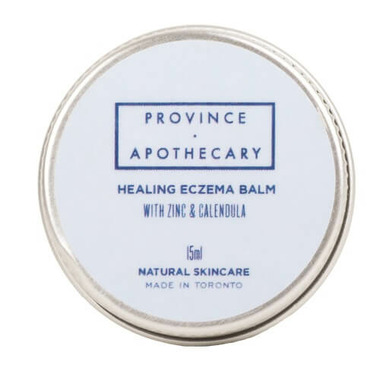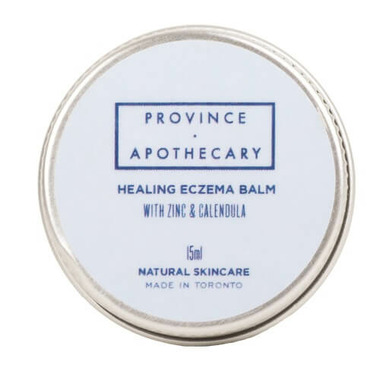 Province Apothecary Healing Balm for Eczema
With Zinc & Calendula
15 mL
This hydrating and healing balm (made with organic oils, beeswax, and zinc) relieves inflammation, redness, itchiness, dryness, and irritations caused by eczema. It is gentle enough for babies and anyone with sensitive skin. It heals eczema, psoriasis, dermatitis, heat rashes and zits. It is free of steroids, essential oils, coconut, shea butter, preservatives, alcohol, petroleum, and synthetic fragrances + chemicals.

Tip:
Apply the eczema balm where needed and cover the area with gauze, bandages, cotton gloves or cotton fabric.
98% Organic Ingredients + 2 % Vitamin E = 100% Natural Skincare

Features:
Calendula oil calms inflamed skin
Rose hip oil stimulates cell regeneration and reduces the appearance of scars
Hemp oil deeply hydrates and softens
Zinc restores damaged tissue and reduces irritation
Turmeric relieves itchiness and swelling. (Turmeric gives this balm its yellow color, and can stain white fabric)
All Province Apothecary products are free of fillers, pesticides, dyes, petroleum, synthetic chemicals + fragrances, GMOs, and animal testing.

About Province Apothecary Products:

Hand-made in small batches on a weekly basis to ensure freshness
Made with organic, raw materials sourced from small, Canadian companies
Packaged by hand with biodegradable labels that are foil stamped by a local artist
Directions:
A little goes a long way. Apply a small amount to the affected area to calm and heal your skin.
Ingredients:
Extra Virgin Olive oil* [infused with Calendula flowers*, Plaintain leaves*, St. John's wort flowers*, Comfrey leaves*, Oregon Grape root*], Hemp oil*, Flax Oil*, Zinc oxide, Beeswax*, Rose hip oil*, Borage oil*, Sea Buckthorn oil*, and GMO-Free Vitamin E. *Certified organic