Province Apothecary Nourishing + Revitalizing Moisturizer
With Carrot and Rose
120ml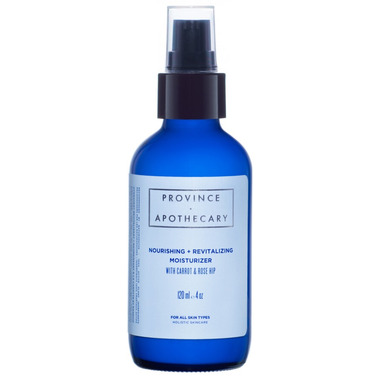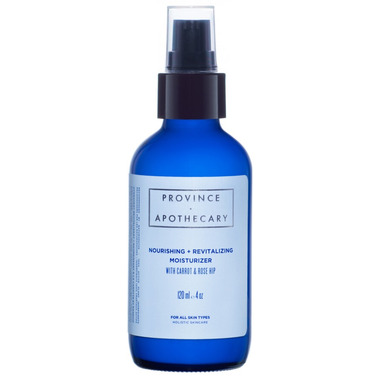 Province Apothecary Nourishing + Revitalizing Moisturizer
With Carrot and Rose
120ml
Province Apothecary Nourishing and Revitalizing moisturizer helps reduce the look of fine lines and wrinkles; working to improve tone, texture, and leave skin looking and feeling soft. It works as a protective layer against free-radicals and external factors to ensure skin is intensely hydrated and maintains suppleness. Your skin will look and feel radiant and nourished from
the benefits of fatty acids and antioxidants from naturally sourced ingredients.
95% Organic Ingredients + 5% Wild-Crafted Ingredients = 100% Natural Skincare
Great for: Normal, Combination and Mature skin.
Featured Ingredients and Their Benefits:
Organic Carrot Root oil naturally lifts and plumps skin. Rich in carotenes, it works to restore the skin's natural elasticity and tone and combats the effects of the sun and age
Wildcrafted Rose Hip oil naturally repairs and regenerates. This potent oil's strengthening properties work to protect against external damage and reduce inflammation and damage
Organic Evening Primrose oil is an excellent moisturizer. It helps reduce inflammation, pore congestion, and increase blood flow in the skin. It contains a high concentration of essential fatty acids.
Wildcrafted Rose Otto oil naturally hydrates and balances. Rose Otto strengthens the skin's collagen-elastin to gently tone and tighten. Its astringent properties work to reduce the redness of broken capillaries and inflamed skin.
About Province Apothecary Products:
Hand-made in small batches on a weekly basis to ensure freshness
Made with organic, raw materials sourced from small, Canadian companies
Packaged by hand in protective blue glass with biodegradable labels that are foil stamped by a local artist
All Province Apothecary products are free of fillers, pesticides, dyes, petroleum, synthetic chemicals + fragrances, GMOs, and animal testing.
Directions
: Apply a thin layer of moisturizer to face and neck in upward, circular motions. Use morning and night for optimum hydration. For best results use after Province Apothecary Face Serum.
Ingredients
: Aqua, Glyceryl Stearate**, Cetearyl Alcohol**, Sodium Stearoyl
Lactylate**, Apricot Kernel oil*, Jojoba Seed oil*, Rose floral water*, GMO-free Vitamin E, Evening Primrose oil*, Grapeseed oil*, Rose
Hip Seed oil*, Rosemary leaf extract, Jojoba Seed fil* infused with
Calendula flowers, Carrot Root oil*, Lavender*, Myrrh, Neroli, Rose
otto, Frankincense*, Immortelle.
*Certified organic ingredient.
**Emulsimulseis is a naturally-sourced, biodegradable emulsifier made from glycerine and plant fatty acids, used to stabilize this product and enhance your skin's softness. ECOCERT approved, Certified Organic, and vegan.
**Lactobacillus Ferment and Grapefruit seed extract are naturally-occurring preservatives that are antimicrobial, non-comedogenic, and antioxidant. ECOCERT approved, Certified Organic, and vegan.