Province Apothecary Nourishing + Revitalizing Moisturizer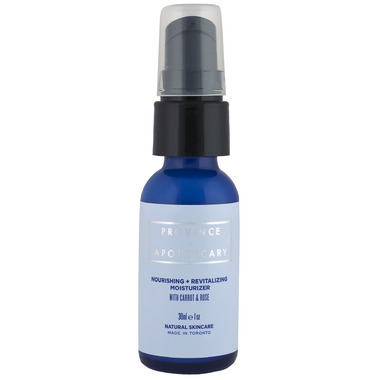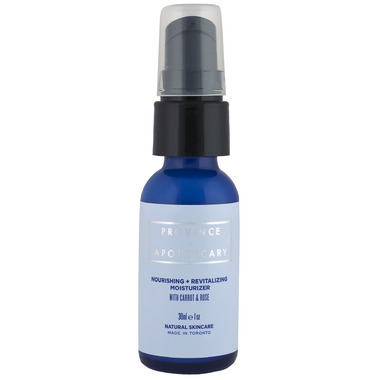 Province Apothecary Nourishing + Revitalizing Moisturizer
Province Apothecary Nourishing + Revitalizing Moisturizer is an incredible, Canadian made moisturizer that helps reduce the look of fine lines and wrinkles.
95% Organic Ingredients + 5% Wild-Crafted Ingredients = 100% Natural Skincare
Great for:
Normal, Combination and Mature skin.
Features:
Helps reduce the look of fine lines and wrinkles
Improves tone, texture and softens skin
Balances the production of sebum
Skin will look and feel radiant and nourished
All Province Apothecary products are free of fillers, pesticides, dyes, petroleum, synthetic chemicals + fragrances, GMOs, and animal testing.
About Province Apothecary Products:
Hand-made in small batches on a weekly basis to ensure freshness
Made with organic, raw materials sourced from small, Canadian companies
Packaged by hand in protective blue glass* with biodegradable labels that are foil stamped by a local artist
Please note: Due to freezing, this product ships in blue plastic bottles November to April
Directions:
Use 1-2 times per day. Apply a thin layer of moisturizer to face and neck in upward, circular motions. For best results use directly after Province Apothecary Serum.
Ingredients:
Water, Rose flower water*, Apricot oil*, Jojoba seed oil*, Grape seed oil*, Emulsimulse (Vegetable wax), Calendula oil*, Evening primrose oil*, Rose hip oil*, Carrot root oil*, GMO-free Vitamin E, Rosemary seed extract, Lactobacillus Ferment, Grapefruit extract, therapeutic essential oils of: Lavender, Neroli, Frankincense, Immortelle, and Rose otto. *Certified Organic
**Emulsimulseis is a naturally-sourced, biodegradable emulsifier made from glycerine and plant fatty acids, used to stabilize this product and enhance your skin's softness. ECOCERT approved, Certified Organic, and vegan.
**Lactobacillus Ferment and Grapefruit seed extract are naturally-occurring preservatives that are antimicrobial, non-comedogenic, and antioxidant. ECOCERT approved, Certified Organic, and vegan.




Lune:
a few months ago
This is the best moisturizer I've ever used. It is easy to spread, virtually unscented and performs well all day. I don't get oily even in the summer (my skin type is normal-dry but summer means sebum) and the texture of my skin feels smooth and soft. Perfect over or mixed with oils and serums, it plays well with my entire routine. My one complaint is the price, but I haven't yet found anything that compares.
Tina:
more than a year ago
This is a great moisturizer for dry skin! It has a light milky/oily texture that spreads easily and sinks right in. It has a light smell (nothing bad), and doesn't leave your face greasy. 4 pumps is enough to cover my entire face and neck. I mix it with 2 pumps of rosehip oil for extra moisture since Well.ca doesn't carry the serum unfortunately. The only downside is that the pump that comes with this bottle is terrible! Not sure if it's just mine, but the first few times I used it, it sprayed the product in all directions :( I ended up switching the pump with another one that came with an empty bottle I purchased which solved the issue. However, considering the price of this product I would expect a decent quality pump that works properly. It won't prevent me from re-purchasing, but I will be seriously annoyed if it happens again!
Page
1