Province Apothecary Nourishing + Revitalizing Moisturizer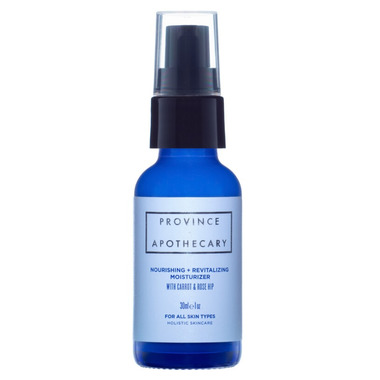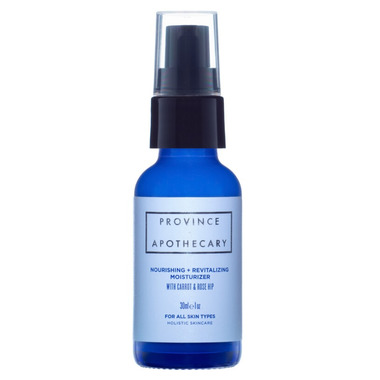 Province Apothecary Nourishing + Revitalizing Moisturizer
Province Apothecary Nourishing + Revitalizing Moisturizer is an incredible, Canadian made moisturizer that helps reduce the look of fine lines and wrinkles.
95% Organic Ingredients + 5% Wild-Crafted Ingredients = 100% Natural Skincare
Great for:
Normal, Combination and Mature skin.
Features:
Helps reduce the look of fine lines and wrinkles
Improves tone, texture and softens skin
Balances the production of sebum
Skin will look and feel radiant and nourished
All Province Apothecary products are free of fillers, pesticides, dyes, petroleum, synthetic chemicals + fragrances, GMOs, and animal testing.
About Province Apothecary Products:
Hand-made in small batches on a weekly basis to ensure freshness
Made with organic, raw materials sourced from small, Canadian companies
Packaged by hand in protective blue glass* with biodegradable labels that are foil stamped by a local artist
Please note: Due to freezing, this product ships in blue plastic bottles November to April
Directions:
Use 1-2 times per day. Apply a thin layer of moisturizer to face and neck in upward, circular motions. For best results use directly after Province Apothecary Serum.
Ingredients:
Water, Rose flower water*, Apricot oil*, Jojoba seed oil*, Grape seed oil*, Emulsimulse (Vegetable wax), Calendula oil*, Evening primrose oil*, Rose hip oil*, Carrot root oil*, GMO-free Vitamin E, Rosemary seed extract, Lactobacillus Ferment, Grapefruit extract, therapeutic essential oils of: Lavender, Neroli, Frankincense, Immortelle, and Rose otto. *Certified Organic
**Emulsimulseis is a naturally-sourced, biodegradable emulsifier made from glycerine and plant fatty acids, used to stabilize this product and enhance your skin's softness. ECOCERT approved, Certified Organic, and vegan.
**Lactobacillus Ferment and Grapefruit seed extract are naturally-occurring preservatives that are antimicrobial, non-comedogenic, and antioxidant. ECOCERT approved, Certified Organic, and vegan.