Province Apothecary Radiant Body Oil
With Argan and Black Cumin
30ml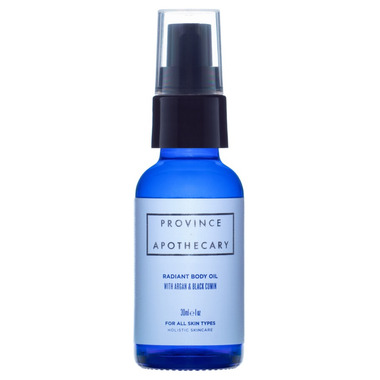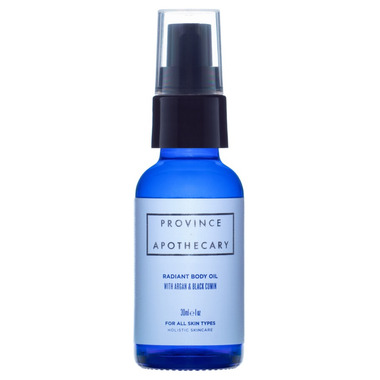 Province Apothecary Radiant Body Oil
With Argan and Black Cumin
30ml
The Province Apothecary Radiant Body Oil is an alluring body oil created to suit all skin types with a blend of beautiful plant based natural essential oils. Quickly absorbed into the skin to nourish and soften effectively. Works deeper to boost cellular circulation and gently detoxify your body. An invigorating fragrance will enliven and empower your spirit to leave you balanced and revitalized.
Featured Ingredients and Their Benefits:
Organic Argan Kernel oil is considered one of the most valuable and sustainable oils in the world. It is an extremely moisturizing oil, high in Vitamin E, Omega-6 fatty acids and antioxidants. It is abundant in plant sterolins, which help restore skin's lipid layer, improving its ability to retain moisture and resulting in softer, smoother skin.
Black Cumin Seed oil is long recognized in the Middle East as a medicinal oil, soothes and moisturizes the skin. It is high in vitamins and minerals, including vitamins A, B, and C, potassium, copper, zinc and selenium.
Geranium, Clary Sage, Lavender and Frankincense essential oils stimulate your creativity, boost cellular circulation, tone your skin and gently detoxify the body.
About Province Apothecary Products:
Hand-made in small batches on a weekly basis to ensure freshness
Made with organic, raw materials sourced from small, Canadian companies
Packaged by hand in protective blue glass with biodegradable labels that are foil stamped by a local artist
All Province Apothecary products are free of fillers, pesticides, dyes, petroleum, synthetic chemicals + fragrances, GMOs, and animal testing.
Directions
: After showering or bathing, massage into damp skin using upwards
circular motions. Allow a few minutes to absorb thoroughly. For
areas of extreme dryness, follow with Province Apothecary
Rescue Balm.
Ingredients
: Safflower oil*, Argan Kernel oil*, Camellia Seed oil*, Avocado oil*, Jojoba Seed oil*, Extra Virgin Olive oil* [infused with Calendula
officinalis flowers*, Comfrey flowers*], Rose Hip Seed oil*, Pomegranate Seed oil, Broccoli Seed oil*, Black Cumin Seed oil,
Vitamin E, Rosemary leaf extract, Geranium, Clary Sage, Lavender*, Frankincense*, Cypress, Myrrh, Juniper*.
*Certified organic ingredient.
Natural, Organic, Non-GMO, Vegan, Fair Trade, Gluten Free, Made in Canada