Pura Naturals Active Soap Infused Sponge Peppermint Volcano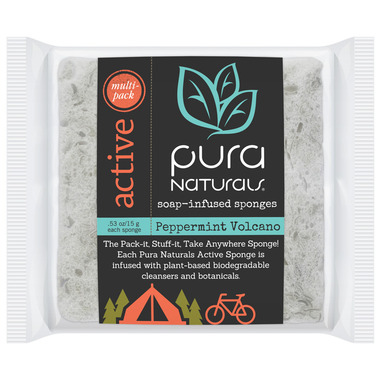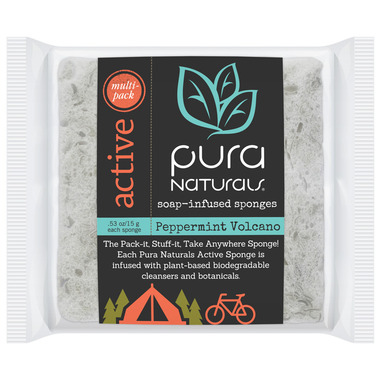 Pura Naturals Active Soap Infused Sponge Peppermint Volcano
Pura Naturals Active Soap Infused Sponge is the pack-it, stuff-it, take-anywhere sponge. Infused with biodegradable, vegan and gluten-free soap, it is easy and convenient for cleansing on-the-go. Activate with water for a robust lather, then scrub on hands or body for a deep clean. This soapy sponge is tough on grime yet gentle on skin. Allow to air-dry, then pack it away for the next use.
Features:
Gently removes impurities from your skin
Revolutionary way to get clean
3 in 1: Combines all natural botanical cleanser, gentle exfoliation, and a washcloth
Easy to pack into carry-on luggage or gym bags
Reusable
Guaranteed fresh for 30 days (active ingredients inhibit bacteria, so sponge won't smell after use)
Earth Conscious - made from biodegradable, plant-based renewable resources, with no petroleum by-products
Ingredients:
Cocos nucifera (Saponified Coconut oil), Glycine soja (Saponified Soybean Oil), Helianthus annuus (Saponified Sunflower Seed Oil), Aqua, Elaeis guineensis (Saponified Palm Fruit Oil), Olea europaea (Saponified Olive Fruit oil), Ricinus communis (Saponified Castor Seed Oil), Carthamus tinctorius L. (Saponified Safflower Seed Oil), Brassica napus (Saponified Rapeseed Oil), Sapotaceae Multiflora Butyrospermum parkii (Saponified Shea Butter), Simmondsia chinensis (Saponified Jojoba), Theobroma cacao (Saponified Cocoa Seed Butter), Limnanthes alba (Saponified Meadowfoam Seed Oil), Matricaria chamomilla L. (Chamomile Extract,) Tocopherol (Vitamin E), Essential Oil, Mineral Pigment.
No Petroleum By-products, Made from Plant-Based Renewable Resources, Biodegradable, No Sulfates, No Parabens, No Phthalates, Gluten-Free, Vegan, Cruelty-Free, 100% Recyclable packaging