Pure Beauty Organics Coconut Milk Bath Soak
Made by Belly Buttons & Babies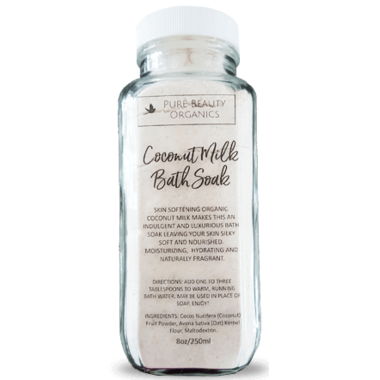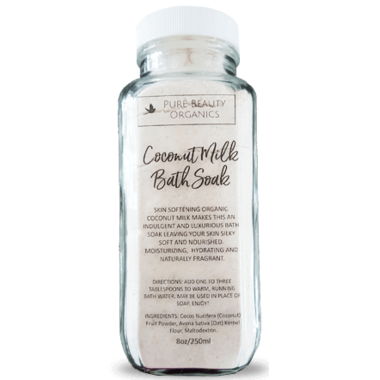 Pure Beauty Organics Coconut Milk Bath Soak
Made by Belly Buttons & Babies
This Coconut Milk Bath Soak is a sensational way to enliven your daily bathing ritual! Delicately ground oats are combined with protein-rich coconut milk powder to help soothe and rejuvenate skin by releasing dead cells and providing silky nourishment.
Allow yourself to relax in milky water while your skin is left feeling hydrated and nourished. This bath soak was specialty formulated with relaxation and moisture in mind. Natural and vegan coconut milk powder helps moisturize and reduce acne inflammation. This bath soak is a true spa experience. This wonderful soak will leave your skin soft with a very subtle natural scent of coconut.
Features:
Made with natural, toxin free ingredients
Safe for baby and kids
Suitable for those with sensitive skin
May be used in place of soap
Directions:
Sprinkle 2 to 3 tablespoons (or more, depending on desired preference) under warm running water and distribute evenly with hands by swirling water. Relax! Each jar will offer 10 to 12 baths (or more).
Key Ingredients:
Coconut Milk Powder:
moisturizes and softens the skin, has anti-inflammatory properties and can help soothe inflamed areas of the skin
Colloidal Oat Flour:
skin soothing powers effective for relieving dryness and inflammation, including insect stings, rashes, and eczema. Oatmeal will cleanse skin and lock in moisture. A natural, gentle cleanser.

Ingredients:
Cocos Nucifera (Coconut Fruit Powder), Avena Sativa (Colloidal Oat Kernal) Flour, Yogurt (Yogurt) Powder.