PureFit Premium Nutrition Bar Case of 15
Oatmeal Cinnamon
15 Bars x 56.7 g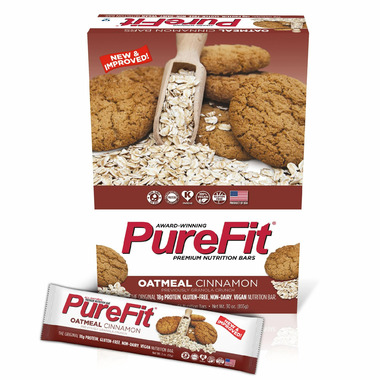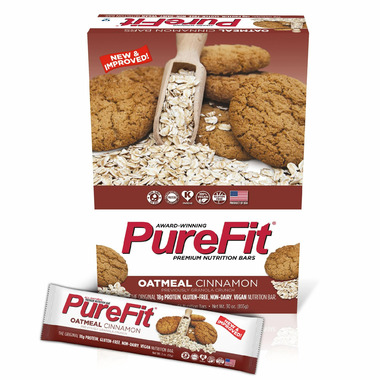 PureFit Premium Nutrition Bar Case of 15
Oatmeal Cinnamon
15 Bars x 56.7 g


PureFit Oatmeal Cinnamon Nutrition Bars start with gluten-free oats, nutrition-packed almonds, cinnamon and agave syrup for sweetness to create the best tasting granola treat you've ever had. In fact, with all these healthful granola ingredients in a high-protein, low-fat bar, you could say they've "out granola-ed" granola! Put down that pinecone and take a bite of one of their mouth-watering bars instead. And if you are wondering, the Oatmeal Cinnamon bars are vegan too!
PureFit bars are an integral part of The PureFit Fat-Burning System. It provides many of the nutrients and calories you need to round out your PureFit diet. And it does not contain harmful ingredients found in virtually every nutrition bar on the market. Best of all, these bars are versatile. From lunch boxes to soccer moms, from Wall Street executives to pro-athletes—everybody loves the taste and they fit into any pocket. Finally—a nutrition bar designed not only for the whole person but for the whole family.


Features:
100% All-Natural Ingredients
18 Grams of Soy Protein
Non-GMO Soy
Low Glycemic
NO Dairy
NO Hydrogenated Oils
NO Animal Products - Vegan
NO Cholesterol or Trans Fatty Acids
NO Wheat or Gluten
NO Artificial Sweetners
NO Hidden Carbohydrates
NO Sugar Alcohol
Includes:
15 x 57 g Bars
Ingredients:
Brown rice syrup, soy protein isolate, soy nuts, almonds, soy crisps (soy protein isolate, tapioca starch, salt), fructose, organic agave syrup, gluten free oats, sunflower oil, glycerin, chicory fiber, natural flavors, cinnamon, salt, organic caramel colour, soy lecithin.

Allergy Information:
Contains Soy, Almonds. Manufactured in a facility that also manufactures milk, egg, tree nuts and peanuts.