Reese & Luke Shea Butter Baby Balm Lavender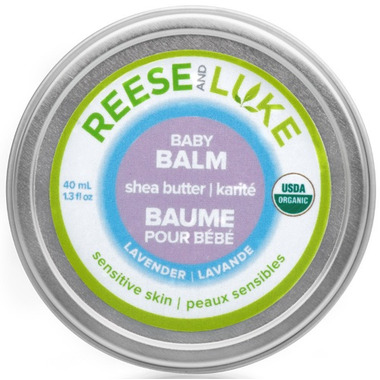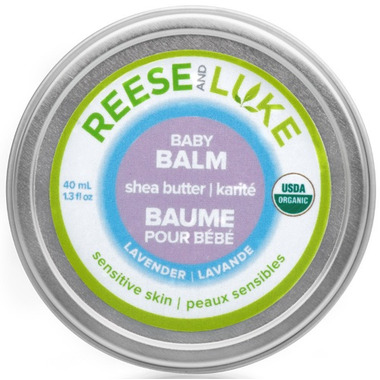 Reese & Luke Shea Butter Baby Balm Lavender
This 100% organic Shea butter baby balm is formulated to be the best product to naturally protect and soothe baby's sensitive skin. Apply our balms to heal eczema flareups or to prevent diaper rash, it serves as both a natural barrier against excess moisture while also letting your skin to breath and heal baby's face, bottom & body.

Features:
Safe for sensitive skin
Creates a natural protective barrier on baby's bottom
Formulated to allow skin to breath
Soothes dry skin & keeps baby's bum soft
Safe for cloth diapers - will not stain or damage cloth diapers - no build-up Protects against eczema flare-ups
Keeps moisture in & the elements outs
Soothes & heals dry hands, cuticles, lips, wind burn & rough elbows.
Ingredients:
* Butyrospermum Parkii (Shea Butter), * Olea Europaea Fruit Oil (Olive), * Cera Alba (Wax), * Simmondsia Chinensis Seed Oil (Jojoba), * Hypericum perforatum Leaf (St John's Wort), * Calendula Officinalis Flower Extract, * Lavandula Angustifolia Oil (Lavender), (* All ingredients are 100% certified organic)
Directions:
Apply to skin to relieve itching due to dryness or eczema on face, bottom & body. Apply with each diaper change to protect baby's bottom from a soiled diaper and to allow skin to breath and heal from redness or itching due to dryness.