Shoosha
Shoosha Baby Organic Eczema Healing Balm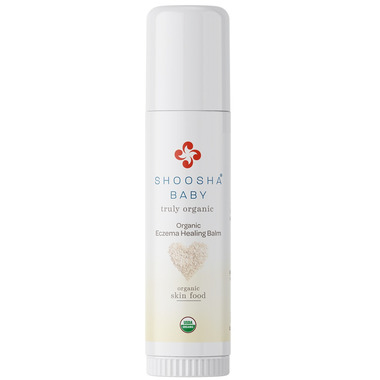 Shoosha
Shoosha Baby Organic Eczema Healing Balm
Newbown and Up
0.56 oz
Shoosha Baby Organic Eczema Healing Balm
is rated out of
5
by
8
.
---
Description
Shoosha's Baby Organic Eczema Healing Balm is formulated to protect, soothe and provide relief from eczema, rashes, itching, insect bites as well as from Poison Oak, Poison Sumac and Poison Ivy.

Did you know?
This profoundly healing balm is also effective to restore chapped, cracked and rough skin due to dryness by bringing the gentlest and most restorative healing therapy to your little one's irritated skin.
Also, this medicated product is certified food grade organic. In other words, its so pure and safe, you could eat it!
What's inside? Formulated with healing Colloidal Oatmeal, Cocoa Butter, Tamanu, Evening Primrose Oil, German Chamomile and an infused tea made from the petals of 8 healing plants. You can be comforted to know there are only organic certified botanical ingredients and Vitamin E in this product. No synthetic ingredients whatsoever.
Application:
Apply liberally to the topical area. Reapply as needed to prevent skin from drying out.
Texture:
Please note the Eczema Balm is purposefully softer than the other balms to minimize any pulling on irritated skin. A gentle swipe on your baby's skin is all that is necessary for application. Its important to moisturize the affected area throughout the day with the eczema balm.
Features:
Approved medicinal product by Health Canada
USDA Certified Organic
Soft formula for easy application
Natural
Created for babies, but effective for the whole family
No Tree Nuts
Non-GMO
Dairy, Soy and Corn Free
Steroid Free
No synthetic Ingredients
No synthetic fragrance or perfumes
Paraben/Phthalate Free
Cruelty Free
Hypoallergenic
Biodegradeable
No Petrochemicals
No DEA's
Toxic Free
This Certified USDA food grade organic product is so safe and pure, you could eat it
You can use
Shoosha Organic Baby Sensitive Skin Face & Body Lotion French Lavender
to moisture the whole body, and the Eczema Healing Balm to treat the affected area.
For external use only. Avoid contact with eyes. Consult a healthcare practitioner if symptoms worsen or last for more than 7 days. Store in a cool dry spot or refrigerate.
In more severe cases where your Doctor may recommend a steroid cream for a short burst of time, it is possible to apply the eczema balm first, allowing the natural treatment to soak in and to then apply the steroid cream on top.

Active Ingredient:
Organic Colloidal Oatmeal (Avena Sativa)….2%
Ingredients: *Helianthus Annuus (Sunflower) Seed Oil, *Theobroma Cacao (Cocoa) Seed Butter, *CeraFlava (Beeswax), *CalophyllumInophyllum (Tamanu) Oil, *Calendula Officinalis Flower Extract,, *MatricariaChamomilla (Chamomile) Essential Oil, *OenotheraBiennis (Evening Primrose) Oil, Mixed Tocopherols (Vitamin E), *RosmarinusOfficinalis (Rosemary) Leaf Extract, *HypericumPerforatum (St. John's Wort) Extract, *AlthaeaOfficinalis (Marshmallow Root) Extract, *Rosa (Rosehips) Extract, *MatricariaChamomilla (Chamomile) Flower Extract, *HamamelisVirginiana (Witch Hazel) Extract, *GlycyrrhizaGlabra (Licorice) Root Extract, *HelichrysumArenarium Flower Extract. *=USDA/NOP Certified Organic Ingredient.
Highlights

Rated

5

out of

5
by
dimitrav
from
I wish I could give more than 5 starts!
I purchased this product a few weeks ago because my son developed atopic dermatitis on his whole tummy. As a first time parent I was super worried and tried every product I could imagine, but nothing was working. Remember, not all kids are the same! I came about this product randomly as I was looking through the website and decided to give it a try. GUYS...It took only 3 hours for this product to work on my son's skin!!!! The price is a bit up there for the amount of product you get, but hey...if it works, IT WORKS! I have ordered 3 up until today and definitely will be using it for the continued months to come. Love this product!!!
Date published: 2020-06-23
Rated

5

out of

5
by
PrairieGal
from
LOVE THIS BALM FOR DRY SKIN!
This is an amazing product. My daughter has dry skin generally, and it got really bad in winter. This is super moisturizing and goes on so smoothly, without irritating her skin. It is super hydrating, and I personally like the natural smell! She's 18 months now and loves the stick because she applies it to her own cheeks and hands.
Date published: 2021-03-17
Rated

5

out of

5
by
Mel8486
from
Works great on both me and my little one
Bought this for my little one to help with her dry eczema patches but I have used it myself as well on irritated and itchy skin and it's worked wonderfully! Nice consistency, it's a solid that almost melts once its applied to your skin. Love that it's a clean product and can be used by the whole family! A little goes a long way.
Date published: 2021-06-09
Rated

5

out of

5
by
pickled_jalapenos
from
Works wonders for skin cracks (NOT just for babies!)
I have eczema and this powerful yet mild healing balm literally closes my cracked open skin from dryness within days. I apply the balm at the crack, slap a bandage on and voila, the crack close the very next day (takes about 2 day if it's a bigger crack). My new love 100%
Date published: 2021-07-17
Rated

4

out of

5
by
HeatherMof2
from
Easy to apply
This product goes on so smooth which makes it easy to apply to those irritated patches and surrounding areas. However, my son is sensitive to smells and he is not so keen on this one. It is really neutral, but that may be what he doesn't like.
Date published: 2020-11-18
Rated

3

out of

5
by
Theepa
from
I bought it for my 8 months old baby's dry skin. I didn't notice a huge improvement. It didn't irritate the skin but not much product. I wish it was bigger and lasted longer to see if it actually works. Not sure if I would buy this again.
Date published: 2020-03-09
Rated

3

out of

5
by
JG
from
It's okay
I had higher hopes for this. I don't know if I got an old one or if it is supposed to smell awful? It's hard to use because of how awful it smells. Also it's pricey for how small of a stick it is.
Date published: 2022-05-18
Rated

5

out of

5
by
Junebug
from
Ease..
Bought this product for my grandson. Love the ease of just rolling it on. And did notice a significant difference on his skin.
Date published: 2021-02-07