Shoosha Baby Organic Face & Body Lotion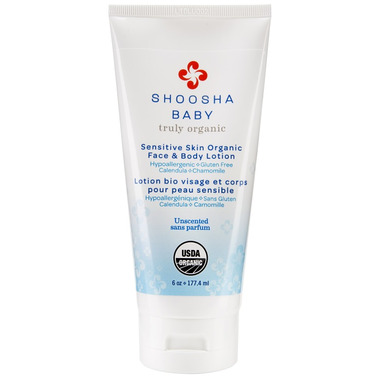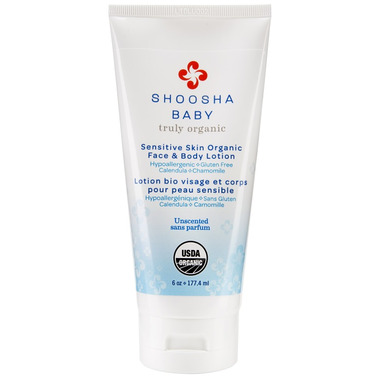 Shoosha Baby Organic Face & Body Lotion
Lovingly made with soothing herbal extracts and botanicals such as Organic Chamomile, Organic Calendula, Organic Cocoa and Organic Shea Butter to help calm, soothe and hydrate dry, itchy and sensitive skin. Suitable for both face and body.
What you put on your baby's skin is absorbed into your baby's body, and baby's skin if far thinner and more vulnerable that adult skin. Shoosha's Sensitive Skin lotion formula is certified organic food grade USDA that means it's pure enough to eat. There are 0 synthetic ingredients in our lotion.
Perfect to layer over Calm Baby Calendula Oil for extra rich and gentle moisture protection.
Read our blog, My Child has Eczema! Now What? written by Patricia Di Gasbarro, founder of Shoosha Truly Organic.
Features:
USDA Certified Organic
For Normal to Sensitive Skin
Ingredients: Aloe Barbadensis Leaf Juice*, Aqua/Water, Alcohol Denat*, Butyrospermum Parkii (Shea) Butter*, Cocos Nucifera (Coconut) Oil*, Sucrose Cocoate*, Helianthus Annuus (Sunflower) Seed Oil*, Cera Alba (Beeswax)*, Glycerin*, Theobroma Cacao (Cocoa) Seed Butter*, Maranta Arundinacea (Arrowroot) Root Powder*, Calendula Officinalis Flower Extract*, Chamomila (Chamomile) Recutita Flower Extract*, Simmondsia Chinensis (Jojoba) Seed Oil*, Xanthan Gum, Rosmarinus Officinalis (Rosemary) Leaf Extract*, Tocopherol (Vitamin E)





Christina:
more than a year ago
Nice lotion. Especially good for those with scent sensitivities and skin that is easily irritated. I find that this lotion is hydrating and absorbs easily. The smell is a bit meh, but it is worth not getting the red patches I am prone to after application of most scented products(even those for babies)... because of this there are periods of time when I have just dealt with dry skin and have not bothered applying lotion for fear of rashes--NO more!
Page
1