Orange Flavour
120 Tabletes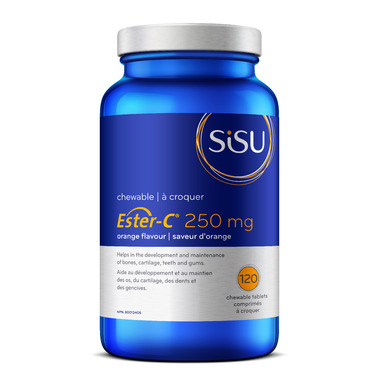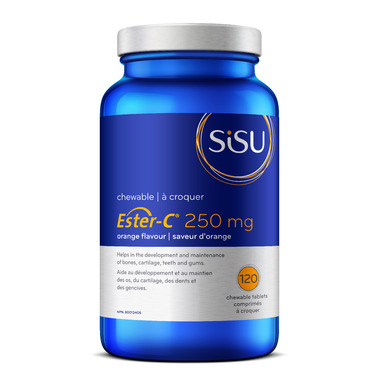 SISU Ester-C 250mg Chew
Orange Flavour
120 Tabletes
- We're sorry, this product is no longer available!
- Shop for other products in: Vitamin C

Only Ester-C® has active vitamin C metabolites, such as threonate and furanone, which intensify its absorption and enhance its retention for up to 24 hours in the white blood cells and the immune system.
Naturally sweetened
Gentle on tooth enamel
Suitable for adults and children
Directions:
250 MG | Adult dosage: Chew 1 to 3 tablets daily or as directed
by a health care practitioner. Children's dosage (4 and up):
Chew 1-2 tablets daily or as directed by a health care practitioner.
Ingredients:
Medicinal ingredient:
Vitamin C 250 mg | 500 mg from Ester-C® brand calcium ascorbate and sodium ascorbate Non-medicinal ingredients: Stevia rebaudiana leaf, dextrose, fructose, citric acid, natural flavour, guar gum, stearic acid (vegetable), magnesium stearate (vegetable), turmeric extract, beet root powder, silicon dioxide.