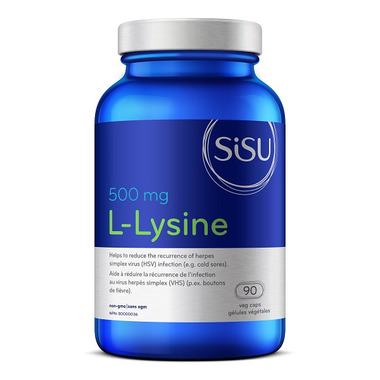 Description
SISU L-Lysine helps to reduce the recurrence, severity, and healing time of cold sores.
Features:

Can be taken at the first sign of a Herpes outbreak to stop it from progressing or preventively if outbreaks are frequent
L-Arginine supports replication of the Herpes virus and should be avoided during an outbreak, along with food sources such as chocolate, peanuts, almonds, and raisins
L-Lysine supports production of L-Carnitine which is important throughout the body including the cardiovascular system, energy production and the breakdown of fats
L-Carnitine is vital to healthy heart and brain function (especially in older people) as well as liver health and male fertility
Just one capsule per day of L-Lysine may aid calcium absorption and support the formation of collagen, which is important for bone and joint health
SISU Advantages:
Pure, vegan L-Lysine
Suitable for vegans
Contains no ingredients that are a source of gluten
Good Manufacturing Practices standards
Tested for guaranteed purity and potency
NPN approved
Ingredients:

Medicinal: (per capsule) L-Lysine (hydrochloride)...500 mg (2S) – 2,6 – Diaminohexanoic acid
Non-medicinal: magnesium stearate (vegetable).
Capsule: hypromellose
Dosage:
(Adult) Take orally 2 capsules three times daily with food or as directed by a health care practitioner.
Highlights

Shipping & Returns