Sudsatorium Mermania Bath Soak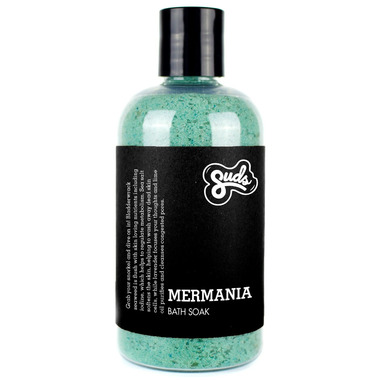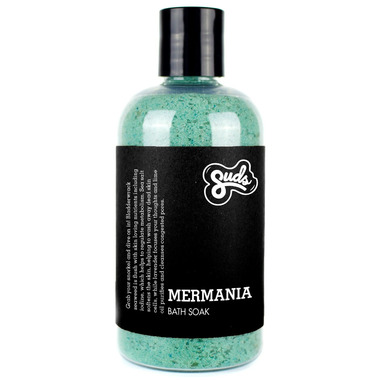 Sudsatorium Mermania Bath Soak
Grab your snorkel and dive in! Bladderwrack seaweed is flush with skin loving nutrients including iodine, which helps to regulate metabolism. Sea salt softens the skin, helping to wash away dead skin cells, while lavender focuses your thoughts and lime oil cleanses.

Featured Ingredients:
If You Could Sea Me Now: Bladderwrack is a type of seaweed which is naturally rich in vitamins and minerals, including calcium, copper, magnesium, iron, zinc and iodine. These are highly beneficial to the skin and hair, making seaweed prized for its ability to cleanse, tone, soften, calm, and detoxify the skin.

Night Tonic: Lavender acts as nature's melatonin to relax your mind for a more restful sleep.
Come Sail Away: For days when you need a relaxing escape from the world, run yourself a hot bath and drift away

Directions: Fill your bathtub with warm water, toss in as much (or as little) of your soak as you're ready to handle under running water and lay back to enjoy its loving embrace. Don't dilly dally or else you'll miss out on all the gorgeousness!
Ingredients: Hand Harvested Sea Salt (Sodium Chloride), Hand Harvested Dead Sea Salt (Sodium Chloride), Organic Bladderwrack Seaweed Powder (Fucus Vesiculosus), Palm-Free Sodium Cocoyl Isethionate, Organic Lime Oil (Citrus Aurantifolia), Organic Lavender Oil (Lavandula Augustifolia), Wild Harvested Seaweed Absolute (Fucus Vesiculosus), Organic Spirulina Extract (Arthrospira Platensis)