Sudsatorium Sweet Dreams Are Made Of This Bath Soak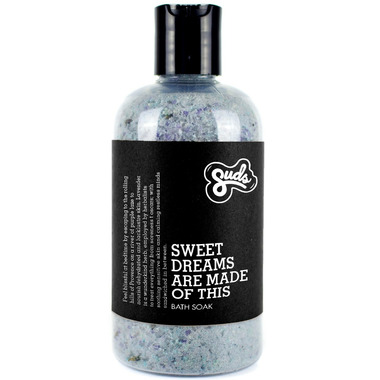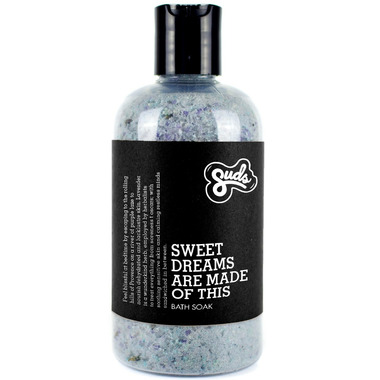 Sudsatorium Sweet Dreams Are Made Of This Bath Soak
Feel blissful at bedtime by escaping to the rolling hills of Provence on a river of purple laze. Lavender is a wunderkind herb, used by herbalists to soothe sensitive skin and calm restless minds; as marjoram susses out excess
sebum to deliver a spotless hide. Magnifique!
Featured Ingredients:
Power to the Purple: Bamboo salt, called Jukyeom in Korean, owes its distinct purple hue to time spent roasting inside of bamboo logs, picking up all kinds of skin-loving nutrients that help to alkalize the body
Dream Machine: Lavender acts as nature's melatonin to relax your mind for a more restful sleep

Rolling in the Benz: The main chemical constituent of benzoin essential oil is coniferyl cinnamate, an ester that is said to have powerful calmative properties on the skin
Directions: Fill your bathtub with warm water, toss in as much (or as little) of your soak as you're ready to handle under running water and lay back to enjoy its loving embrace. Don't dilly dally or else you'll miss out on all the gorgeousness!

Ingredients: Hand Harvested Sea Salt (Sodium Chloride), Korean Purple Bamboo Salt (Sodium Chloride and Bambusa Vulgaris), Palm-Free Sodium Cocoyl Isethionate, Organic Lavender Flower Powder (Lavandula Augustfolia), Organic Lemon Thyme Powder (Thymus Citriodorus), Organic Lavender Oil (Lavandula Augustifolia), Organic Sweet Marjoram Oil (Origanum Marjorana), Organic Tonka Absolute (Dipteryx Odorata), Organic Thyme Oil (Thymus Vulgaris), Organic Petitgrain Oil (Citrus Aurantium), Organic Benzoin Resinoid (Styrax Tonkinensis), Organic Grape Skin Extract (Vitis Vinifera), Organic Purple Sweet Potato Extract (Ipomoea Batatas)