Sun Warrior Sol Good Protein Bar
Coconut Cashew
2.19 oz x 12 bars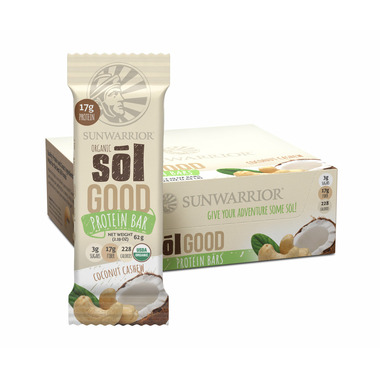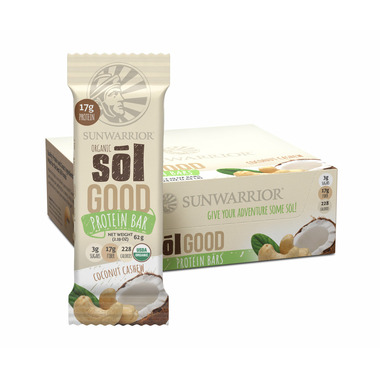 Sun Warrior Sol Good Protein Bar
Coconut Cashew
2.19 oz x 12 bars
Quality protein and clean ingredients make for the best sol foods. You're always in motion. Fuel that active life with 17 - 19 grams of protein, high fiber, organic superfoods, and the deliciousness of sunshine and joy. Not sure what those taste like? Try one today and find out for yourself.

17-19 grams of protein, 12-18 grams of dietary fiber, USDA organic

Directions:
2.19 oz / 62 grams Suggested Use: Step one: remove wrapper. Step two: eat bar. Please make sure you master step one. The bars taste much better when you do.

Ingredients:
Sunsweet(Organic Prebiotic Fiber, Organic Tapioca Syrup, Organic Stevia Extract), Sunwarrior Protein Blend(Organic Brown Rice Protein, Organic Pea Protein, Organic Quinoa Protein,), Organic Sunflower Butter, Organic Coconut, Organic Roasted Cashews, Organic Rice Dextrin, Organic Grape Juice, Organic Coconut Flavour, Organic Cacao Butter, Organic Vegetable Glycerin, Organic Coconut Oil, Vitamin E Mixed Tocopherols, Xanthan Gum, Organic Locust Bean Gum, Ancient Sea Salt, Organic Madagascar Vanilla Bean, Organic Caramel Flavour, Organic Vanilla Flavour, Organic Madagascar Cinnamon. Contains:Cashews, Coconut.

Caution:
Allergen notice: Contains coconut, cashews. Produced in a facility that may also process dairy, soy lecithin, peanuts, and tree nuts.

Natural, Organic, Vegan, Gluten Free, Non-GMO, Dairy Free, Peanut free product.