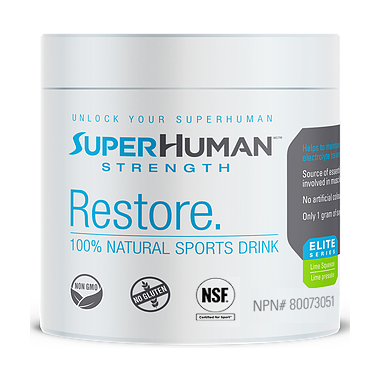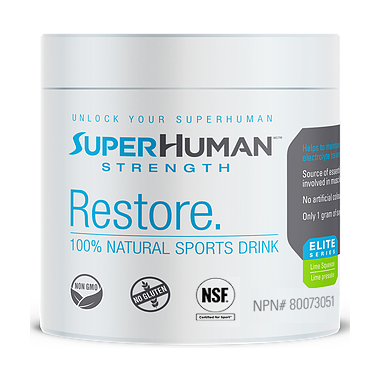 BCAA(Branch Chain Amino acids) are the building blocks of our body's tissues, including the structural proteins that build muscle, connective tissues, bones and other structures. Branched-chain amino acids are crucial to an athlete's recovery and muscle tissue repair following exercise or strenuous activity. Leucine, isoleucine and valine work synergistically and are responsible for supporting muscle protein synthesis, and promoting strength and muscle enhancement. In the human diet, leucine naturally occurs in greater amounts compared to isoleucine and valine; as such, it is believed that an effective branched-chain amino acid (BCAA) supplement includes a higher ratio of leucine. Human studies show high leucine supplementation including isoleucine and valine result in a greater muscle protein synthesis response during recovery.
D-Ribose: SuperHuman Restore contains pure D-Ribose, a safe and clinically researched ingredient that supports the natural way our bodies produce adenosine triphosphate (ATP), which is the energy source of our cells. D-Ribose assists the body's natural process of energy production. It helps to reduce the loss of energy during stress and accelerates energy and tissue recovery. Through this action, D-Ribose helps muscles regenerate lost energy and potentially minimizes any physical effects of energy depletion caused by strenuous activity. Energy depletion contributes to a variety of consequences that may negatively impact muscle performance or how we feel after exercise. The loss of energy in muscles can commonly cause symptoms of stiffness, soreness, weakness, and pain due to exercise. Thankfully, the D-Ribose found in SuperHuman Restore can minimize these effects and help prepare the body for the next workout.

290 grams - 7.25 gram serving - 40 Servings

Ingredients:
Branched Chain Amino Acid Blend 2:1:1 (L-Leucine, L-Isoleucine, L-Valine), D-Ribose,L-Leucine, Citric Acid, Dimagnesium Phosphate, Natural Flavours, Potassium Bicarbonate, N-AcetylCysteine, Sodium Bicarbonate, Rice Hull Concentrate, Stevia Leaf Extract, Turmeric Powder (colour),Sunflower Lecithin (as an emulsifier).