Teeccino TeeChia Cranberry Apple Cereal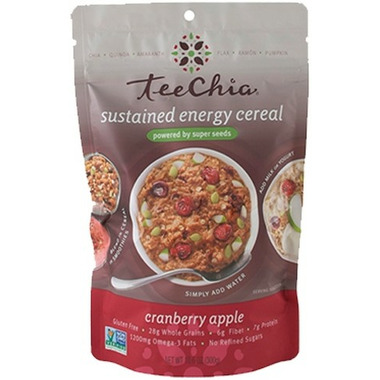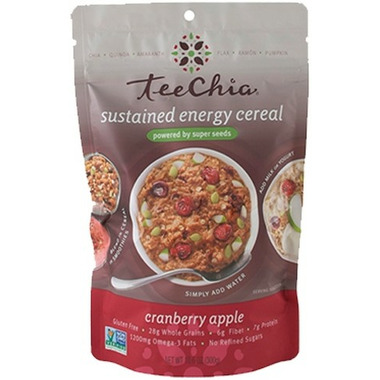 Teeccino TeeChia Cranberry Apple Cereal
- We're sorry, this product is no longer available!
- Shop for other products in: Cereal

Energize your day with Teeccino TeeChia Cranberry Apple Cereal, a delicious cereal created from nature's own nutritious seeds & fruits that produces lasting energy and satisfaction without the crashes or cravings caused by sugar-packed cereals.
TeeChia blends nutrient-dense super seeds, chia, flax, quinoa, amaranth, ramón & pumpkin, with gluten-free rolled oats, blueberries, dates and currants. Sweetened only with fruit, TeeChia provides abundant phytonutrients like antioxidants, omega-3 essential fatty acids, soluble and insoluble fiber, vitamins and minerals. In under 1 minute, TeeChia makes a quick and easy wholesome meal.
TeeChia's chia and flax seeds swell when hydrated to create a naturally smooth fiber that has profoundly beneficial effects on your digestive tract. You'll experience the difference TeeChia makes to keep you regular daily.
Benefits:
6g of fiber with a high percentage of soluble fiber to slow the absorption of carbohydrates and promote regularity
28g of whole grains from organic quinoa, organic amaranth, and gluten-free oats
1200mg of ALA omega-3 essential fatty acids from organic pumpkin seeds, organic chia, and organic flax
Antioxidants from chia, ramón, oats, quinoa, blueberries, and dates
6g of protein
Gluten-Free
No Added Sugar
Ingredients:
Gluten-free rolled oats, organic quinoa seeds, organic amaranth seeds, dates (dates rice flour), roasted almonds, organic milled chia seeds, organic milled flax seeds (golden & brown), organic pumpkin seeds, organic dried cranberries (cranberries, apple juice, sunflower oil), organic apples, organic cinnamon, organic & raw roasted ramón seeds, natural cranberry & apple flavors.
Contains Almonds