The Laundry Tarts Strip It+ Plus
Unscented
32 oz (40/80 Uses)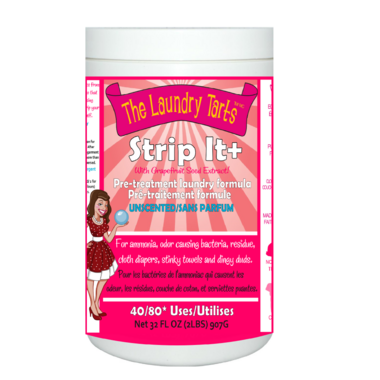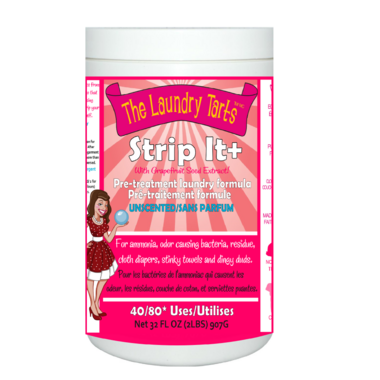 The Laundry Tarts Strip It+ Plus
Unscented
32 oz (40/80 Uses)
Sometimes clothing can build up residues from detergents and chemical dryer products that may irritate your skin. Heavily soiled garments and synthetic materials can also trap odor causing bacteria (yuck) and leave your clothing dingy and not at their best.
The Laundry Tarts' Strip It+ formula is designed to strip your garments back to their bare natural state. Now with added grapefruit seed extract! Grapefruit seed extract is associated with antibacterial properties in treating yeast and fungus.
This formula is easy to use whether hand washing or adding to your laundry machine and is great for heavy duty garments that need heavy duty care.
Features:

For ammonia, odor causing bacteria and residue
For cloth diaper stripping, stinky towels and dingy duds
Ingredients: Sodium Carbonate, Sodium Percarbonate, Sodium Chloride, Grapefruit Seed Extract, Vegetable Glycerine
Vegan, Unscented, chlorine Free, no animal testing, made in Canada, cloth diaper safe