TheraNeem
TheraNeem Herbal Cinnamon Toothpaste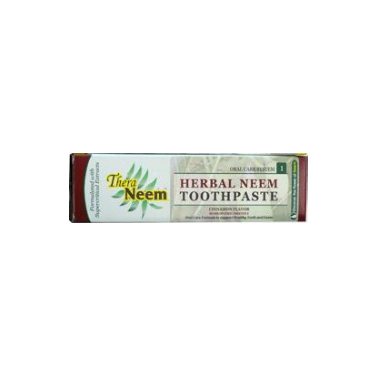 TheraNeem
TheraNeem Herbal Cinnamon Toothpaste
Description
TheraNeem Original Herbal Mint and new homeopathic-friendly Cinnamon Cardamom Flavor toothpastes support healthy teeth and gums with organic supercritical extracts of Neem bark, Neem leaf and more. All-natural, concentrated formulas contain no sodium lauryl sulfate or parabens.
90% certified-organic ingredients
Contains organic Neem oil AND supercritical Neem leaf extract
Fortified with coconut oil, jojoba and shea butter
Soothing, antioxidant-rich formula

Ingredients: Calcium Carbonate, Aqua, Sorbitol, Glycerine, Sodium Lauroyl Clutamate(derived from a naturally occurring amino acid), Xylitol, Xanthan Gum, Guar gum (cyamopsis Tetragonoloba), Potassium Sorbate, Silica, Supercritical Extracts of Grapeseed (Vitis Vinifera), Clove Bud (Eugenia Caryophyllus), Neem (Azadirachta Indica), Cardamom (Elettaria cardamomum), Star Anise (Illicium Verum), Cinnamon Bark (Cinnamomum zeylenicum), Licorice (Glycyrrhiza Glabra), Ascorbic Acid (Vitamin C).
Highlights