Trojan Magnum Original Lubricated Condoms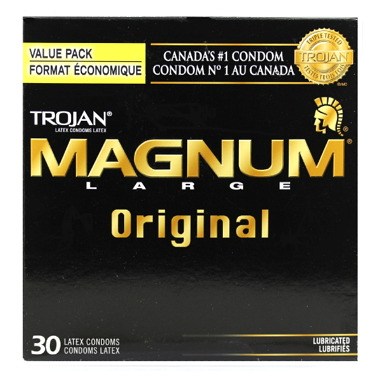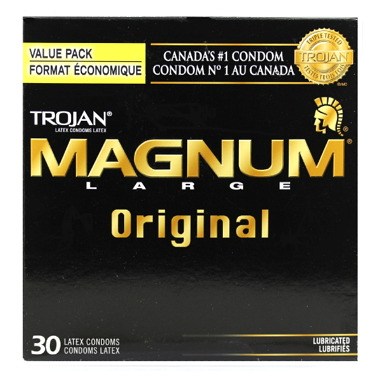 Trojan Magnum Original Lubricated Condoms
Trojan MAGNUM® Lubricated Condoms are specifically designed for men who find standard condoms tight and uncomfortable.
Features:

Larger than standard latex condoms for extra comfort
Tapered at the base – for a secure fit
Silky smooth lubricant – for comfort and sensitivity
Special reservoir end – for extra safety
Made from premium quality latex – to help reduce the risk
Each condom is electronically tested – to help ensure reliability
Trojan Magnum Size: 58 mm width
Glen:
more than a year ago
Looked for a long time before I found a rubber that would fit well enough for comfort and tight enough for security. These ones are just great. There is plenty of room in the tip to accommodate anything I can throw at it and the tips are lubed for easy entry. I have been using these for years and have yet to have one tear or slip off which makes for great confidence in the product. My wife loves these too because they have never given us reason to question the integrity of the product.
Glenn:
more than a year ago
These ones are really good because they fit those larger members and the reservoir at the end can hold lots to reduce messy clean ups. My wife really likes them because they are thin and feel like I have nothing on which is what she really wants. I have given them some rigorous tests over the last year and they stand up to any good beating I can deliver without bursting and spoiling my evening. I give them a huge thumbs up for durability. It's nice to not have to worry about an unplanned pregnancy at my age!
1