Umbra Triflora Hanging Planter White/Brass
Umbra Triflora Hanging Planter White/Brass
is rated out of
5
by
54
.

Do you love the look of hanging plants in your window, or the idea of growing an indoor herb garden in your kitchen, but no room to keep them? Then this clever hanging planter is perfect for you. Great for herbs, succulents, vine plants and more, Triflora Hanging Planter mounts to your wall or ceiling and adds functionality to your window by turning it into a space for growing plants.

Features:
By hanging 3 small planters on an extendable metal rod, Triflora makes it easy to water and display plants in your window without taking up space on the window sill

Slide Triflora's three ropes along the metal rod and adjust their lengths to fully customize the placement of each hanging planter

Triflora Hanging Planter features durable melamine planters that can hold standard 3-inch diameter pots; so, there's no need for re-potting

Dimensions: 24 x 5 inches (60.69 x 12.7 cm) and comes with 43 inches (109.22 cm) of rope; perfect for any standard-size 24-inch window.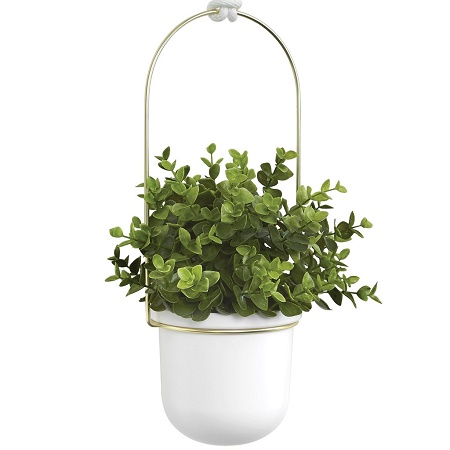 Rated

5

out of

5
by
Magz
from
Love this product!
Bought this a week ago and couldn't wait to hang it. Love the way it looks in my office.
Date published: 2020-05-17
Rated

5

out of

5
by
Tikky
from
Tidy and sweet
Small window needed dressing but wanted to keep ledge clear of clutter
Date published: 2020-11-10
Rated

3

out of

5
by
Ella
from
Ugly Rope
Looks cute for the most part and was easy to hang. However the strings that hold the planter up look cheap and tacky. I'd expect another material, as they look like rope you can get at a hardware store. It doesn't match the rest of the design.
Date published: 2020-11-17
Rated

5

out of

5
by
Menara
from
Un bel après-midi de printemps.
I was not excepting to have such a nice product. Good job!!!
Date published: 2020-06-26
Rated

5

out of

5
by
Ericas5
from
In love!
Absolutely love the Triflora, so excited to have these fresh herbs available in the kitchen everyday!
Date published: 2020-04-26
Rated

3

out of

5
by
Katy Huff
from
Nice planter design, disappointed in hanging rope
I was so excited to receive our new planter, as we've been adding more indoor plants to our lives. I was disappointed that the rope wasn't as it's shown in the photo, but MUCH MUCH longer, so either you have to cut the rope, and then retie it, which you then have an extra, not so visually appealing knot. Also the rope is a very plastic looking, so really wasn't what we were expecting. As a result, we still haven't hung it and are investing our own methods to hang the planters from the bar. I also wish we had gone with black, as the white has a bit of a greenish tint to it.
Date published: 2021-06-23
Rated

5

out of

5
by
Trish B
from
Shortening the cords
There is no easy way to shorten the cords without anyone seeing the knots. Photos on the website show nice, clean hanging cords. But if you want to shorten them to give that varied look, knots will show. These are heavy pots so the knots have to be strong. There should be another way to shorten the cords. Otherwise, I love the planters.
Date published: 2021-03-29
Rated

3

out of

5
by
Nancy78
from
A few minor issues
I really like the look of this planter but make sure you read the description. The rod is only 24" long at full extension (there is an indication of where you should pull it out to), I made the mistake of thinking it went up to 42" but I guess that's the length of the rope and planter. I also don't like the string they used. The rod is a nice soft white and the strings are that polyester-looking ultra white stuff. Also in the pictures it shows the planters hung at different levels with the nice finished tie-offs at both ends but they are all the same lenth so if you want to shorten one you have to cut it and knot it. Doesn't look as nicely finished as in the pictures. Last issue is the white rope stretches out a bit once you put a plant in so it's difficult to level them. I'm going to purchase some macramé rope to re-do them myself. Overall I do still like the look and it's very convenient to hang multiple plants in a window. The installation is easy.
Date published: 2021-02-20