Vapour Organic Beauty AER Deodorant Lavender Myrrh
Revolutionary Gel-to-Powder Formula
51g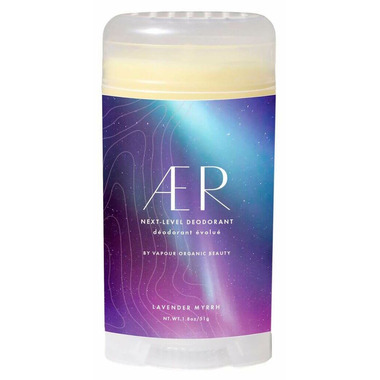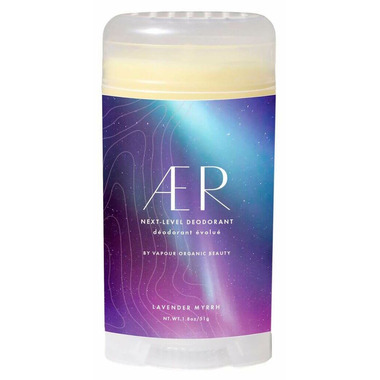 Vapour Organic Beauty AER Deodorant Lavender Myrrh
Revolutionary Gel-to-Powder Formula
51g
Vapour Organic Beauty non-toxic, non-aluminum, plant-based deodorant has swept the green beauty world by storm since its launch in September, 2017. Let go of convention, with AER Lavender Myrrh - clean, green and uplifting!
AER flides on easily, transforming from gel to powder on your skin. It's light-as-air barrier allows skin t breath while confronting odour causing bacteria in a lasting way. Powerful natural ingredients work throughout the day and target odours at its source.

Features:
Revolutionary gel-to-powder formula glides on easily
Super-concentrated, a little goes a long way
Organic Arrowroot, Tulsi, Myrrh and Oregano deliver lasting results
Universal essential oil blends elevate the senses and combat odor
70% Organic ingredients
30% Essential Oils and other Natural ingredients
Chemical Free
Cruelty Free
Made with wind power
Biodegradable ingredients
Recycled fiber box printed with soy ink
No Nanoparticles
No Irradiation
Application:
AER is super-concentrated and spreads evenly; you will need only a small amount
Turn the disc at the base of the package until small beads of deodorant are exposed
Apply under arms and allow AER to dry down
Some people experience sensitivity to Baking Soda. If this is a concern, swatch test on inner arm. AER contains a minimal amount of Baking Soda compared to other natural deodorants
Precautions:

Some people experience a transition phase as they move from conventional antiperspirants or deodorants to plant-based deodorants like AER. Your body may need some time to adjust. Don't give up if during your first couple weeks of AER use you experience more sweat and/or changing odours
Vapour Organic Beauty formulates AER with organic, natural and Eco–Cert ingredients including essential oils. If you have a history of sensitive skin or allergic reactions, especially to essential oils, please be sure to test AER on a small area inside your wrist for 2–3 days prior to using. Vapour Organic Beauty cannot guarantee that customers will not experience skin reactions to our products. Should any reaction occur, please discontinue use and call a doctor
A small percentage of people have sensitivity to baking soda. If you experience redness or itching, discontinue use
Although it is rare, certain essential oils can discolor clothing. While we do our best to prevent this from happening, Vapour is not responsible if your clothing gets stained
Some separation of ingredients in packaging may occur
Ingredients: Organic Maranta Arundinacea (Arrowroot) Root, Organic Helianthus Annuus (Sunflower) Oil, Sodium Bicarbonate (Baking Soda), Organic Virgin Cocos Nucifera (Coconut) Oil, Silica, Glyceryl Undecylenate*, Organic Cera Alba (Beeswax), Vapour's Proprietary Blend of Essential Oils Tocopherol (Non GMO Vitamin E – Soy), Organic Ocimum Sanctum (Tulsi) Leaf Extract, Wildcrafted Commiphora Myrrha (Myrrh) Gum Extract, Organic Oreganum Vulgare (Oregano) Leaf Extract.*Eco–Cert.
For External Use Only.