Vega Protein & Greens Tropic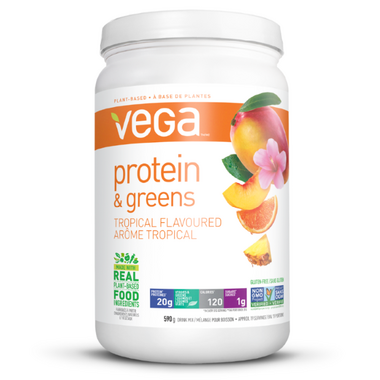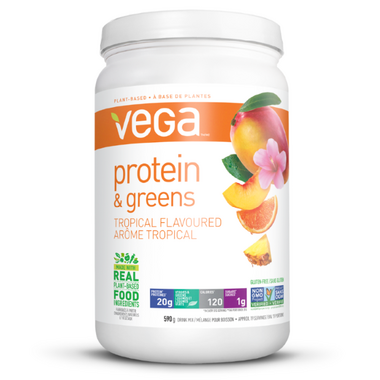 Vega Protein & Greens Tropic
Vega Protein & Greens Tropic is a multisource plant based protein combined with the equivalent of 2 servings of greens. Vega Protein & Greens Tropic offers 20g of complete plant based protein, equivalent to two servings of greens. Nourishing your body shouldn't be hard work. Vega Protein & Greens covers the basics as a convenient protein boost that makes nutrition on-the-go feel—and taste!—like a piece of cake.
Benefits:
Natural
Vegan
Non GMO
Gluten free
Ingredients:
Vega Protein Blend(Pea Protein, Saviseed [Sacha Inchi] Protein, Hemp Seed Protein, Sprouted Whole Grain Brown Rice Protein), Natural Mango, Peach, Orange And Pineapple Flavours, Vega Green Blend (Organic Alfalfa Grass Powder, Spinach Powder, Broccoli Powder, Organic Kale Powder), Papaya Concentrate Powder (Contains Naturally Occurring Enzymes), Stevia Leaf Extract, Xanthan Gum, Citric Acid, Malic.
Directions:
1 scoop (31 g) mixed with water, juice or non-dairy beverage, shake and go! Or blend into your favorite smoothie recipe.