Vega Sport Lemon Lime Sugar-Free Energizer Singles Box


Vega Sport Sugar-Free Energizer is a pre-workout drink mix sporting a unique blend of plant-based performance-improving ingredients, like green tea, yerba mate, coconut oil powder and rhodiola, specifically selected to:
Provide immediate and sustained energy
Increase endurance, aerobic and anaerobic capacity
Enhance mental focus and recover
Take Vega Sport Pre-Workout Energizer before your workout to help you get in the zone with energy to burn!
Recommended Dose (adult):
Mix one pack (3.4 g) of Vega Sport Sugar- Free Energizer in 1 cup (250 ml) of ice cold water and enjoy before exercise.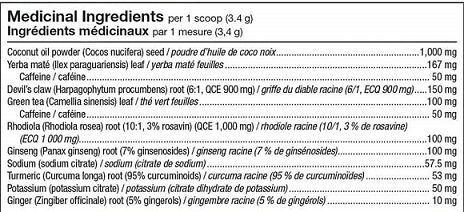 Non-Medicinal Ingredients:
Citric acid, Malic Acid, Tapioca Maltodexrin, Spinach Leaf Powder, Stevia Leaf Extract
,
Beta Carotene, Silicon Dioxide, Natural Flavours.
May contain milk, soy, eggs, tree nuts and sesame.
Cautions: Consult a health care practitioner prior to use if you are pregnant or breastfeeding, if you are taking antidepressant medications, blood thinners, antiplatelet medication of digoxin or if you have diabetes, gallstones, bile duct obstruction, stomach ulcers, excess stomach acid, a liver disorder, develop symptoms of liver problem (such as abdominal pain, dark urine,or jaundice) or iron deficiency. Consult a health care practitioner if symptoms persist or worsen.