Veggie Go's Chewy Fruit and Veggie Strip Tropical Fruit and Kale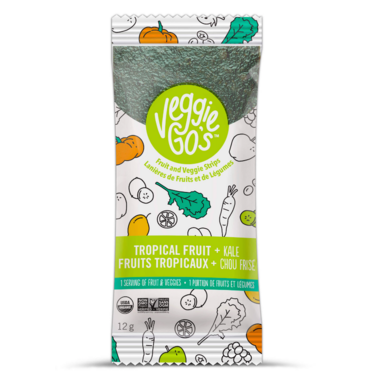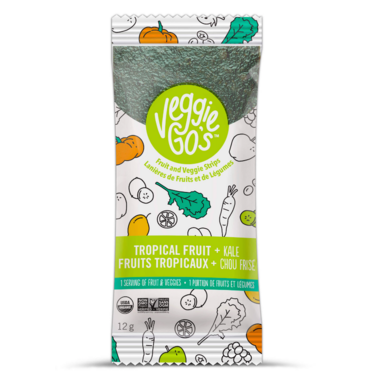 Veggie Go's Chewy Fruit and Veggie Strip Tropical Fruit and Kale
Welcome to a world where snacks have superpowers. These Tropical Fruit and Kale Veggie-Go's Strips are like your favourite fruity greens drink in a chewy, take-anywhere snack bold enough to save any day. Each strip soars with whole-food flavor and serious, no-nonsense nutrition. We're talking 80% of your daily vitamin A and nearly half of your daily vitamin C thanks to what we call "power plants." You know the ones we mean: leafy, nutrient-dense kale and tropical fruits (kiwi, guava and mango), plus pumpkin and apple to round things out. Boom.
Features:
1 strip contains approx. 1/2 cup of fruit and veggies
100% Certified Organic
Non- GMO Certified
Less than 20 calories per bar
No added sugar
Gluten Free
Vegan
Ingredients:
Organic Apple Puree, Organic Pumpkin Puree, Organic Kiwi Puree, Organic Mango Puree, Organic Guava Puree and Organic Kale Puree.
Made in a facility that also processes Tree Nuts and Milk.