Vitality Power Iron + Organic Spirulina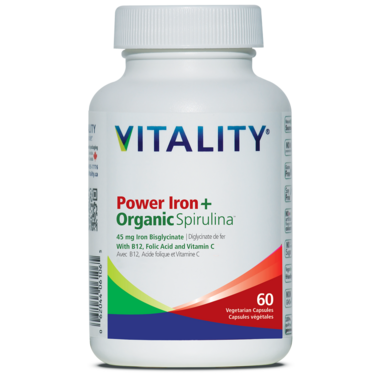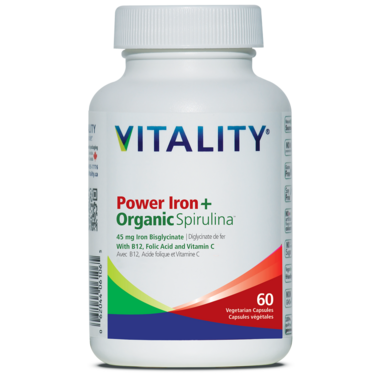 Vitality Power Iron + Organic Spirulina
Improve your energy and mood with Vitality Power Iron + Organic Spirulina. Starting with the highest level of iron in a natural health supplement: 45mg (bisglycinate), plus a powerful blend of key vitamins and organic spirulina to increase absorption. The Spirulina Difference: Nutrient rich spirulina is proven to enhance iron absorption to help build blood and deliver oxygen to the body.
Features:
Ultimate blood builder with 45 mg of iron bisglycinate
Enhances energy and mood
Boosts brain function and focus
Increases stamina and combats fatigue
Iron bisglycinate is well absorbed, less likely to cause constipation and is gentle on the stomach
Dosage:
Take one capsule once daily. Take with a meal. Take a few hours before or after other medications.
Medicinal Ingredients:
Each tablet contains:
Iron (iron (II)bisglycinate)..................................45 mg
Vitamin B12 (methylcobalamin)...................1000 mcg
Folic acid folate)...........................................1000 mcg
Vitamin C (ascorbic acid)...............................100 mcg
Certified organic spirulina...................................75mg
Non-medicinal Ingredients:
Hypromellose, microcrystalline cellulose, vegetable magnesium stearate.
Caution:
Some people may experience constipation, diarrhea and/or vomiting. There is enough iron in the bottle to harm a child. Keep out of reach of children. Consult a healthcare practitioner prior to use if you have an autoimmune disease. Do not use if you are breastfeeding.
Vegan, Gluten Free, Soy Free, Non-GMO, Sugar Free, Dairy Free, Pine Nut Free, Peanut Free. No Artifical Flavours or Colours, No artifical preservatives, 100% Quality Guaranteed.







Sam:
about a year ago
I am thrilled with this product. After a couple of years of low energy and fatigue, I finally had blood work done which resulted in coming back positive for iron deficiency. I have been taking this supplement for a month and I feel like a completely new person. I am energized and motivated and having less problems with depression and anxiety. Also, I have not had any issues with constipation or stomach problems as a result of taking this iron supplement. I highly recommend!
Page
1