Wampole Adorable Omega 3 Liquid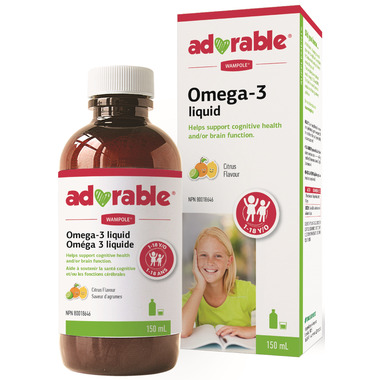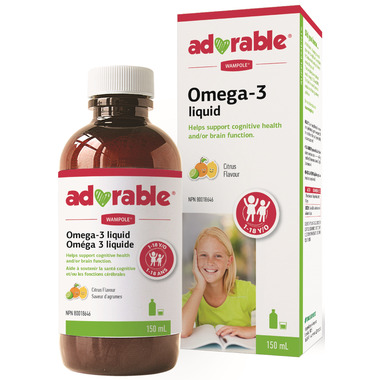 Wampole Adorable Omega 3 Liquid
Wampole Adorable Omega 3 Liquid is a source of omega-3 fatty acids for the maintenance of good health. Helps support the development of the brain, eyes and nerves in children up to 12 years of age. Helps maintain cardiovascular health.
Directions:
1-18 years: 1 teaspoon (5 mL) once daily. Shake well before use.
Can also be mixed with water or fruit juice.
MEDICINAL INGREDIENT
(per dose unit 5 mL):
Fish oil (from anchovies, mackerels and sardines) 4625 mg
Intake: 850 mg EPA (eicosapentaenoic acid) and 550 mg DHA (docosahexaenoic acid).
NON-MEDICINAL INGREDIENTS:
ginger flavour, orange flavour, rosemary oil, vitamin E


Deirdre:
a few months ago
This stuff was terrible. I bought it to test to see if I could get my kids to take it. It was exceptionally fishy and not appealing at all, and I'm an adult, not sure how anyone would get kids to take this. Even with juice or smoothies it was very strong. Won't order again!
Julie:
about a year ago
This is very affordable for the amount of ingredients compared to others, considering my son needs a higher amount than some delicious gummies. My son took a smoothie with this in it without problem. He does not like the smell or taste by it self, but he takes it straight hold his nose and take juice immediately after. We both have noticed a improvement in his behavior and concentration.
Page
1