Zoe Ayla EYe Repair Puffy Eyes and Dark Circles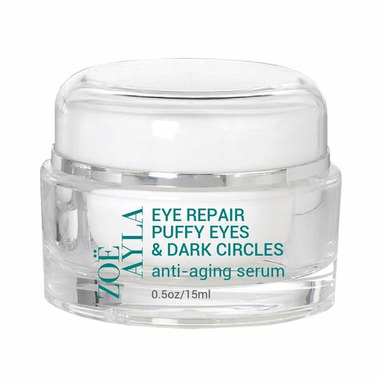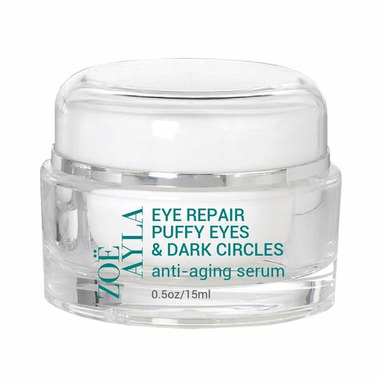 Zoe Ayla EYe Repair Puffy Eyes and Dark Circles
RE-IGNITE THE YOUTHFUL LIGHT IN YOUR EYES! with Zoë Ayla's revolutionary Bye-Bye Puffy Eyes + Dark Circle Repair Eye Cream.
Zoë Ayla's innovative Health & Beauty products are manufactured in top of the line facilities in the USA and consist of the highest quality ingredients available on the market.

HELPS TO IMPROVE YOUR SKIN TONE AND APPEARANCE. CONTAINS AN EXCLUSIVE BLEND OF INGREDIENTS THAT HYDRATE AND MOISTURIZE THE SKIN, AIDING IN MINIMIZING THE APPEARANCE OF PUFFINESS.
• Reduce PUFFINESS AND STIMULATES COLLAGEN.
• Repair the appearance of PAST DAMAGE
• Lighten the appearance of DARK CIRCLES AND DRYNESS.
• Leaves eyes looking BEAUTIFUL, LUMINOUS AND YOUNGER.

Directions: Apply on your eyes after cleansing and toning. Use twice daily.

Ingredients: Purified Water, Glycerin, Medicago Sativa (Alfalfa) Seed Extract, Hydrolized Lupine Protein, Saccharomyces Cervisiae Extract, Butylene Glycol, Persea Gratissima (Avocado) Oil, Simmondisia Chinesis (Jojoba) Seed Oil, Stearic Acid, Cetyl Alcohol, Hydrolyzed Collagen, Retinol, Glyceryl Stearate, Peg 100, Dimeticone, Caprylic/Capric Triglyceride, Dimethyl Methoxy Chromanol Palmiatate, Peg-16 Macademia Glycerides, Octyldocenol, Propylene Glycol, Zea Mays (Corn)Oil, Tocopheryl Acetate, Cholecalciferol, Retinyl Palmiatate, Ascorbic Acid, Pyridoxine HCI, Silicate, Sodium Propoxyhydroxipropyl Thiosulfate, Silica, Polisorbate 20, Phenoxyethanol, Caprylyl Glycol, Potassium Sorbate, Hexylene Glycol.