Adeeva All-In-One Vitamin & Mineral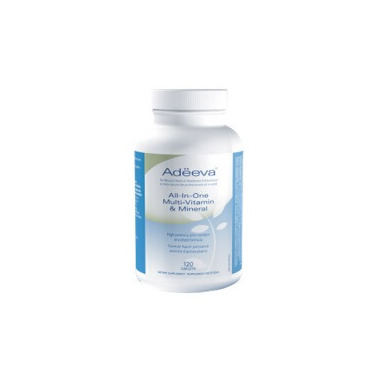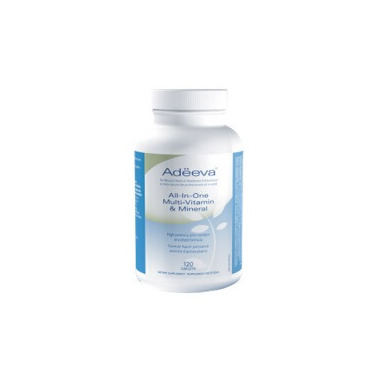 Adeeva All-In-One Vitamin & Mineral
Contains optimal values of everything from Vitamin A-to-Zinc to support general well being, energy, immune support, slowing of the aging process and helping to defend against many degenerative conditions.

Features:
nutrients to support the normal development of skin cells
important doses of antioxidants shown to reduce inflammation
the body with essential nutrients to support immune function and general tissue repair and resistance to infection
key levels of the vitamins and minerals required for the brain to make dopamine and other neurotransmitters involved in attention, focus and stimulation
the right dosages of nutrients required to support and repair the cells of the intestinal tract
boosted levels of antioxidants that quench the free radicals that are know to cause genetic mutations
therapeutic doses of Vitamin B6 and related B-vitamins shown to suppress the inflammation of carpal tunnel syndrome
important dosages of antioxidants that have been shown to slow the progression of cataracts and defend the lens of the eye from free radicals that are largely responsible for cataract development
optimal dosages of key nutrients that help boost overall energy production within all cells of the body
the levels of vitamin E and vitamin C in this supplement are known to improve insulin function
known to reverse endothelial dysfunction and improve blood flow in diabetics
nutrients which further help to prevent and reverse iron deficiency, and support production of red blood cells and hemoglobin

Dosage:

Adult and Children's Recommended Daily Dosage:
Age 16 years and older (adult dosage) 2 caplets, twice per day (or 4 caplets once per day) with meals
Age 13-15 years 3 caplets per day with meals
Age 10-12 years 2 caplets per day with meals
Age 5-9 years 1 caplet per day with meals
Ingredients:

Each 4 Caplets contains:

Vitamin A (palmitate) 2500 IU
Beta Carotene 15,000 IU
Vitamin D (cholecalciferol) 1000 IU
Vitamin E (d-alpha tocopherol succinate) 400 IU
Vitamin C (ascorbic acid) 1000 mg
Vitamin B-1 (thiamine mononitrate) 50 mg
Vitamin B-2 (riboflavin) 50 mg
Vitamin B-6 (pyridoxine hydrochloride) 50 mg
Niacin (niacinimide) 50 mg
Vitamin B-12 (methylcobalamin) 50 mcg
Folic Acid 400 mcg
Biotin 300 mcg
D-Pantothenic Acid (calcium d-pantothenate) 50 mg
Calcium (carbonate & citrate) 500 mg
Iron (ferrous fumarate) 6 mg
Magnesium (magnesium oxide) 200 mg
Zinc (citrate) 15 mg
Copper (gluconate) 2 mg
Chromium (hvp chelate) 50 mcg
Manganese (gluconate) 5 mg
Selenium (hvp chelate) 200 mcg
Molybdenum (citrate) 50 mcg
Bioflavonoids (citrus complex) 50 mg
Lycopene (5%) 6 mg
Lutein (5%) 6 mg
Non-Active Ingredients: Microcrystalline cellulose, silicon dioxide, croscarmellose sodium, stearic acid (vegetable source), magnesium stearate (vegetable source). Contains soybeans.

Caution:
Do not take this supplement if you have any of the following health conditions or circumstances listed below if there is no number listed next to it.

Conditions

History of allergic reaction/intolerance to vitamin supplements
GI Ulcer (5)
Pregnancy (1)
Breast feeding or Lactation (2)
Hemolytic Anemia (Glucose-6 phosphate dehydrogenase deficiency)
Kidney failure (Renal failure) (6)
History of kidney stone (3)
Wilson's Disease - copper storage disease (Hepatolenticular degeneration)
Hemochromatosis - Iron storage disease
Received an organ transplant of any kind (6)
If kidney has been removed (6)
Kidney clearance problem (e.g., a dialysis patient) (6)
Hyperparathyroidism (6)
Sarcoidosis (6)
Liver ailments (6)
Kidney disease (6)
Medication / Treatment / Apparatus
Receiving chemotherapy treatment (6)
Receiving radiation treatment (6)

Legend:
(1) Pregnancy: Take one caplet per day PLUS prenatal vitamin (with physician approval)
(2) Breast Feeding or Lactation: Take one caplet per day PLUS prenatal vitamin (with physician approval)
(3) History of Kidney Stone:Take 2-3 caplets per day maximum
(5) Monitor patient tolerance with supplementation
(6) Requires approval from specialist/physician
Contains no hydrogenated oils, digestible plastics, wax, colours, flavours, or added sugar, milk products, wheat, yeast.