Adrien Gagnon Feminex Iron Tonic
Helps to Form Red Blood Cells
15 Ampoules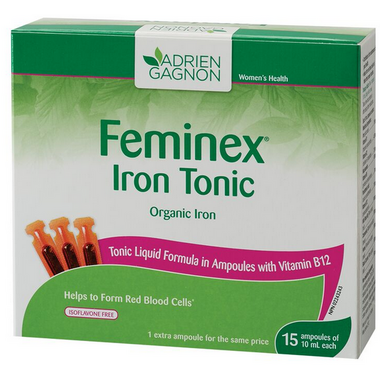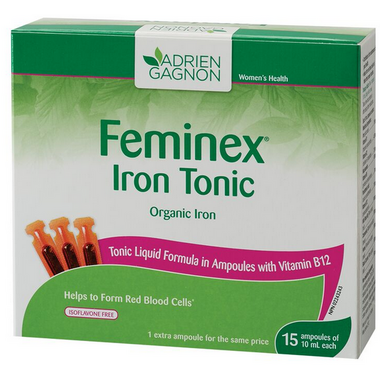 Adrien Gagnon Feminex Iron Tonic
Helps to Form Red Blood Cells
15 Ampoules
Adrien Gagnon Feminex Iron Tonic corrects iron deficienc in women during their menstural years. It is easy to assimilate and does not cause constipation. This supplement is made from an organic source of iron called iron gluconate, which assimilates easily and does not provoke constipation. It also contains B Complex vitamins that contribute to fight against fatigue and depressive tendencies.
During menstrual periods, women tend to lose part of their iron reserves. Unless blood loss is minimal, women will inevitably lose the iron contained in their hemoglobin. This situation partly explains why women generally show lower hemoglobin levels than men. A normal diet does not usually compensate for the body's loss of iron while periods last. That is why it is recommended to take a supplement such as Feminex iron Tonic.
Benefits & Recommended for:
Symptoms associated with iron deficiency:
Fatigue
Anemia
Shortness of breath
Pale skin tone
Dosage:
Adults: Take 1 ampoule (of 10 ml) once a day before a meal.
Take a few hours before or after taking other medication. Shake well before using.