Adrien Gagnon Feminex Pre Meno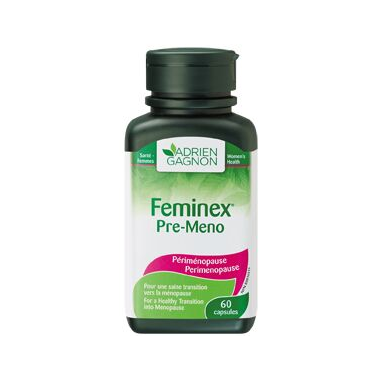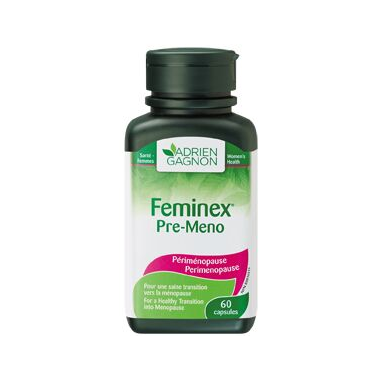 Adrien Gagnon Feminex Pre Meno
- We're sorry, this product is no longer available!
- Shop for other products in: More Herbal Formulas

Adrien Gagnon Feminex Pre-Meno is intended for pre-menopausal women. Isoflavones help compensate the decrease in estrogen production around menopause.
Benefits & Recommended for:
Heavy or normal menstrual bleeding
Irregularity, longer or shorter menstrual cycles
Enhanced bloating or cramps during or before periods
Occasional hot flashes or night sweats
Precautions & Adverse Effects:
Ensure you are up-to-date on mammograms and gynaecological evaluations prior to use.
Do not use if you currently have or previously had breast cancer or breast tumours or if you have a predisposition to breast cancer, as indicated by an abnormal mammogram and/or biopsy, or a family member with breast cancer.
Consult a healthcare practitioner prior to use if you are taking blood thinners, hormone replacement therapy (HRT) including thyroid hormone replacement therapy, if you have a history of hormonal or gynaecological disease, including ovarian cancer, endometriosis, and/or uterine fibroids or if you have a liver disorder or develop liver-related symptoms (e.g. abdominal pain, jaundice, dark urine).
Discontinue use and consult a healthcare practitioner if you experience breast pain, discomfort and/or tenderness or if you experience a recurrence of menstruation and/or uterine spotting.
Dosage:
Adults: Take 3 capsules once or twice daily as needed.
Use for a minimum of 8 to 12 weeks to see beneficial effects on premenopausal symptoms. Use for a minimum of 6 months to see beneficial effects on bone.
Consult a healthcare practitioner for continuous use above one year or if symptoms worsen.