Adrien Gagnon Omega-3 Flaxseed Oil
Organic & Fish-Free
80 Softgels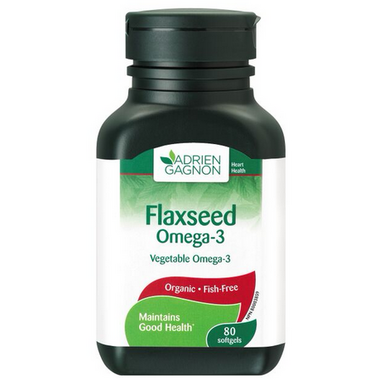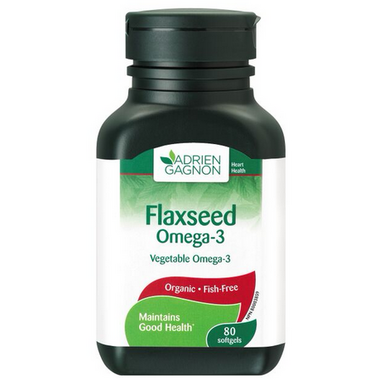 Adrien Gagnon Omega-3 Flaxseed Oil
Organic & Fish-Free
80 Softgels
Adrien Gagnon Flaxseed Omega-3 promotes and maintains good health. It is a source of vegetable and organic omega-3.
Benefits & Recommended for:
Both men and women are recommended to take from 1.1 to 1.6 g of omega-3 daily, as these fatty acids are often lacking in our North American diet. Flax oil contributes to rebalancing the proportion of omega-3 compared to omega-6 in our diets. Currently, this ratio is about 10:1 to 30:1. Ideally, it should be around 1:1 to 4:1.
Flax seed oil is the best source of alpha linolenic acid (ALA), the only vegetable omega-3. Other omega-3, such as DHA and EPA, come from fish oils. ALA is the health alternative for vegans or those that do not well tolerate fish oil.
All AG Natural Health omega products have been tested for contaminants (lead, mercury, bacteria, PCBs, etc.) and have passed pharmaceutical quality and purity standards.
Precautions & Adverse Effects:
Consult a healthcare practitioner prior to use if you are taking blood thinners or if you have a bleeding disorder.
Dosage:
Adults and children 12 years and older: Take 3 softgels daily, with a meal.