Adrien Gagnon Probiox Daily
6 billion x 5 Strains
90 Capsules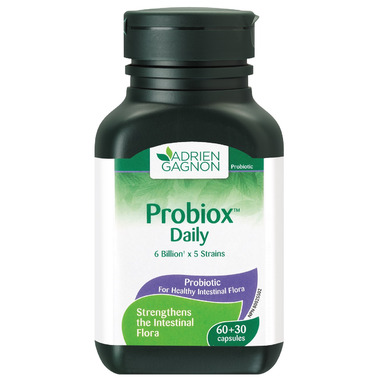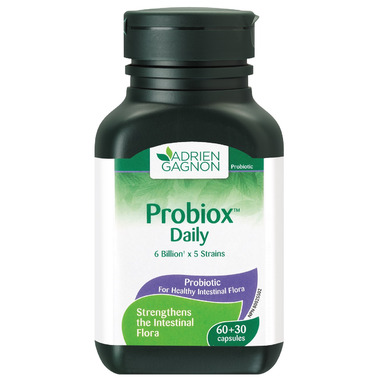 Adrien Gagnon Probiox Daily
6 billion x 5 Strains
90 Capsules

Try Adrien Gagnon Probiox Daily for a healthy intestinal flora.

Benefits & Recommended for:
Live microorganisms are friendly bacteria naturally living in the intestinal tract
Their role is to help with digestion and regularity, as well as to protect against pathogens
Live microorganisms comprise one of the natural body defenses
Dosage:
Adults, adolescents and children 1 year and above: 1 - 3 capsule per day. For young children, open the capsule and empty content in milk or yogurt to avoid choking risks.
Medicinal ingredients:Each capsule contains:
Live microorganisms (cfu: colony-forming units):
Lactobacillus rhamnosus 3 billion cfu
Lactobacillus paracasei 2.7 billion cfu
Lactobacillus acidophilus 0.3 billion cfu
Streptococcus thermophilus 0.06 billion cfu
Lactobacillus Bulgaricus 0.01 billion cfu
Precautions & Adverse Effects:
Do not use if you are experiencing nausea, fever, vomiting, bloody diarrhoea or severe abdominal pain. Do not use if you have an immune-compromised condition (e.g. AIDS, lymphoma, patients undergoing long-term corticosteroid treatment). Discontinue use and consult a health care practitioner if symptoms of digestive upset (e.g. diarrhoea) occur, worsen, or persist beyond 3 days.
Note:
May have been in contact with milk or soya. Do not use if you are allergic to milk or soya.
Canadian Brand,Gluten free, Non-GMO, Peanut free product, tree nut free product, Natural

Please be advised that Well.ca follows manufacturer guidelines for storing & shipping probiotics.