Adrien Gagnon Triple Ginseng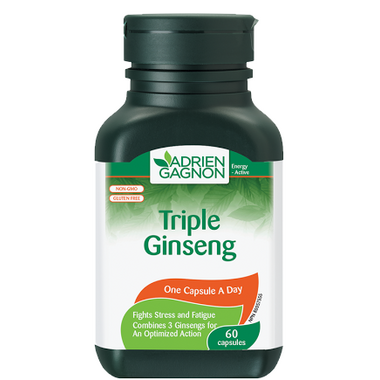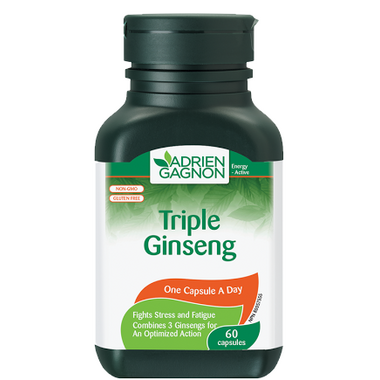 Adrien Gagnon Triple Ginseng
Ginseng is used in herbal medicine to help support cognitive function and to reduce mental fatigue. It helps enhance mental performance.
Features:
Combines 3 gingengs for an optimized action
Ginseng is a plant that helps improve resistance to various stresses, including mental or physical fatigue
It is also regarded as an "elixir of life" in traditional Chinese medicine
Directions:
Adults: Take 1 capsule daily, preferably in the morning
Ingredients:
Chinese ginseng ( Panax ginseng) (root) : 80mg Extract standardized to 5% in ginsenosides. Korean red ginseng (Panax ginseng)( root) : 80mg Extract standardized to 5 % in ginsenosides. American ginseng (Panax quinquefolius) (root):20mg. Extract standardized to 10 % in ginsenosides NON_MEDICINAL ingredients (alphabetical order) : Gelatin, magnesium stearate, maltodextrin.
Warning:
Consult a health care practionner for use beyond 3 months. Consult a health care practioner piro to use if you are pregnant, breasfeeding, have diabetes, or digoxin. Some people may experience insonia, anxiety or headaches, in which case, discontinue use.