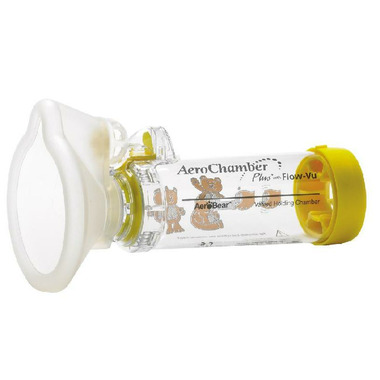 Description
AeroChamber Plus Flow-Vu Anti-Static Valved Holding Chamber (aVHC) is a device available by prescription only for patients who may have difficulty in the coordination and control of using Metered Dose Inhalers effectively. If patients have trouble using Metered Dose Inhalers, the medication that the Metered Dose Inhalers dispense may end up on the tongue, on the back of the throat, or in the air rather than in the lungs. AeroChamber Plus
Flow-Vu (aVHC) helps Metered Dose Inhaler medications to be inhaled properly
Respiratory symptoms associated with asthma or COPD (Chronic Obstructive Pulmonary Disease), are commonly treated with prescription aerosol medications delivered through pressurized Metered Dose Inhalers (pMDIs) or "puffers".
A puffer contains two things: the medication and the propellant that carries the medication to the lungs. Aerosol therapies are effective because they act quickly and with few side-effects.

AeroChamber Plus Flow-Vu with Medium Mask Features & Benefits:

Flow-Vu IFI feature allows caregivers to count patient breaths, ensure a satisfactory facemask seal, coordinate actuation with inhalation and feel secure in knowing they are using proper technique
AeroChamber Brand is the most widely recognized and most recommended Valved Holding Chamber in the world
Patented chamber design maximizes the suspension time for aerosol medications, enhancing fine particle delivery to the lungs reducing side effects like bad taste and hoarseness
Full line of products with features specifically designed for the needs of each patient
Feedback mechanisms that encourage proper technique and virtually eliminates the guesswork associated with aerosol drug delivery
Latex-free ComfortSeal Mask minimizes dead space and provides a comfortable, secure fit EZ Flow exhalation valve offers superior responsiveness while ensuring safe and secure exhalation away from face and eyes
Shipping & Returns
Unfortunately, due to the nature of this item, we cannot accept any returns.
We are only able to ship this item to Canadian customers.
Click here for more information