allKiDz Multivitamin Drink Mix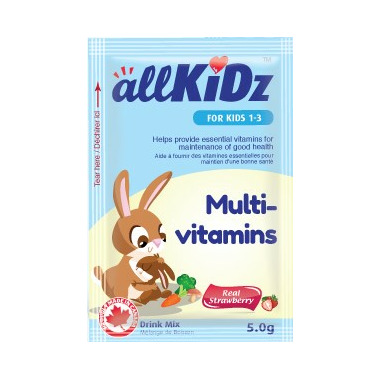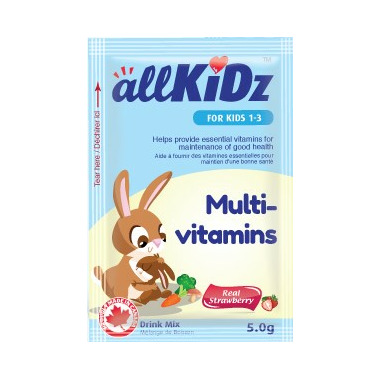 allKiDz Multivitamin Drink Mix
The allKiDz Multivitamin Drink Mix is a refreshing and convenient way to deliver 10 essential nutrients at once!
Features:
"Sunshine" Vitamin D3 and Calcium for healthy bones and teeth
Vitamin A for good vision and skin
Vitamin B complex (B1,B2,B3,B6,B12) for greater metabolism and mental development
Zinc & Vitamin C for optimal immunity
Natural strawberry flavour. Made with Real fruit!
No artificial flavours, colours or sweeteners
No dairy product, soy or yeast
Gluten Free
Directions:
Place contents of sachet in glass, add 60 mL to 100 mL of water and stir, drink immediately. Take with food a few hours before or after taking other medications or natural health products.
Medicinal Ingredients (per sachet):
Vitamin A (Palmitate).....200 mcg RAE (666 IU)
Vitamin D3 (Cholecalciferol).....7 mcg (280 IU)
Vitamin B1 (Thiamine Hydrochloride).....0.4 mg
Vitamin B2 (Riboflavin).....0.4 mg
Vitamin B3 (Niacinamide).....4 mg
Vitamin B6 (Pyridoxine Hydrochloride).....0.4 mg
Vitamin B12 (Cyanocobalamin).....0.7 mcg
Vitamin C (Ascorbic Acid).....27 mg
Calcium (Calcium Citrate).....120 mg
Zinc (Zinc Oxide).....2.7 mg
Non-medicinal Ingredients:
D-Fructose, Xylitol, Strawberry Powder, Citric Acid, Natural Strawberry Flavour, Silicon Dioxide, Stevia