Amoda Matcha Fuel Pre-Workout Energizer with Cordyceps and Pine Pollen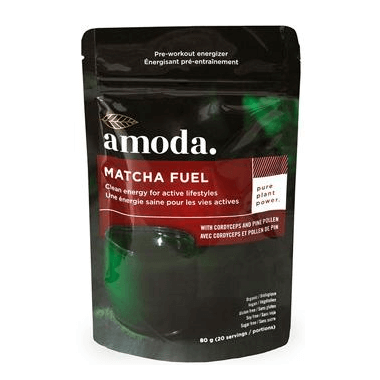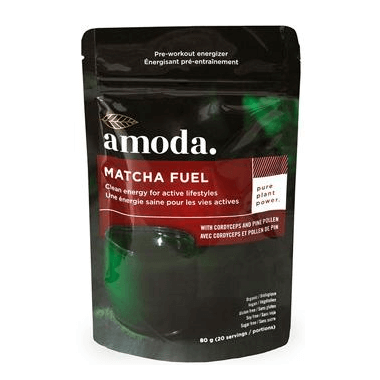 Amoda Matcha Fuel Pre-Workout Energizer with Cordyceps and Pine Pollen
Power up for your next workout, or give yourself that extra boost anytime! Matcha Fuel is an adaptogenic blend of organic matcha, maca, spirulina, cordyceps mushroom, pine pollen and siberian ginseng, a potent combination that works synergistically to increase energy, endurance and focus.
This is a completely plant-sourced and plant-powered blend. It's the perfect alternative to traditional pre-workout beverages that cause jitters and other unwanted effects.
Features:

Provides a sustained clean energy boost, increased stamina and endurance
Gets you focused and in-the-zone for workouts
Tastes great with coconut water
Includes cordyceps and pine pollen to support post-workout recovery
25 servings per pouch
No fillers, flavourings or sweeteners
Suggested serving: 1.5 teaspoons in a small amount of water of coconut water 15-20 minutes before a workout.

Ingredients: Organic gelatinized maca powder, organic spirulina powder, organic cordyceps powder, organic matcha powder, organic pine pollen powder and organic eleuthero (siberian ginseng) powder. Processed in a facility that also handles peanuts and tree nuts.