Anita's Organic Mill Organic Whole Wheat Flour
Organic Stone Ground Hard Red Wheat Kernels
2 kg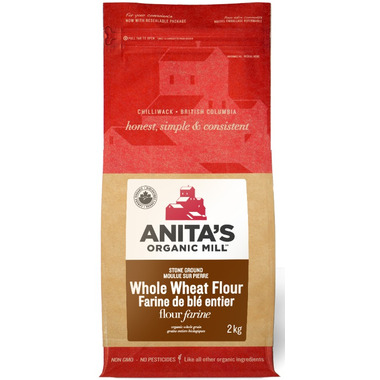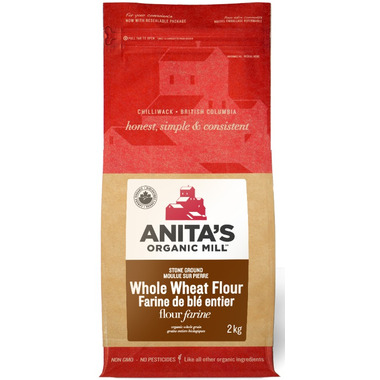 Anita's Organic Mill Organic Whole Wheat Flour
Organic Stone Ground Hard Red Wheat Kernels
2 kg
Anita's Whole wheat flour is stone milled from hard red spring wheat kernels grown in Western Canada. Whole wheat flour contains all of the bran, wheat germ and endosperm of the wheat kernels. Protein averages about 13%, which makes whole wheat flour excellent for bread making.
Whole Wheat flour Substantially Lower Type 2 Diabetes Risk and is a rich source of magnesium, a mineral that acts as a co-factor for more than 300 enzymes, including enzymes involved in the body's use of glucose and insulin secretion.
Eating foods high in insoluble fiber, such as cereals and breads made from Whole Wheat flour, can help women avoid gallstones while it acts as a laxative.
Whole wheat flour promotes gastrointestinal health by using the fiber present in the flour to keep the gastrointestinal tract functioning normally. This may help prevent more serious problems such as colon cancer, diverticulosis, and hemorrhoids. Whole wheat flour may also reduce the risk for diabetes and coronary artery disease. It also contains healthy phytochemicals, including antioxidants, which may help ward off cancer.
Whole-wheat flour is brown in colour, and is derived from the complete wheat kernel (the bran and germ). When used in bread baking, it gives a nutty flavor and a denser texture when compared to all-purpose flour. Bread does not rise as high in whole-wheat breads, which is why a mixture of both whole-wheat and white flour is often used when baking. Whole-wheat flour usually can be substituted for part or all of the all-purpose flour in most recipes. If a recipe calls for two cups flour, try one cup all-purpose and one cup whole-wheat. When completely substituting whole-wheat for white, use 7/8 cup whole-wheat for one cup of white flour.
Ingredients:
Hard Red Spring Wheat