Anusol Plus Extra Pain Relief Ointment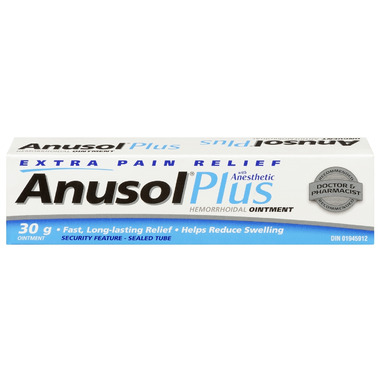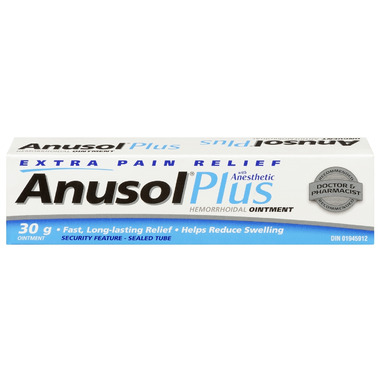 Anusol Plus Extra Pain Relief Ointment
For fast, long-lasting relief of the pain and discomfort of internal and external hemorrhoids, use ANUSOL® Plus Ointment. The formula contains an emollient agent to ease the burning sensation and a gentle astringent agent to help reduce the swelling of hemorrhoidal tissue, so your hemorrhoids have a better chance to heal. The Plus in ANUSOL® Plus is a topical anesthetic that helps numb pain almost as soon as you apply it and also relieves the itch that so often accompanies hemorrhoids. This 30-gram tube of ANUSOL® Plus Ointment comes with a plastic applicator and is for external and internal use.

Directions: Cleanse area, using warm water. Pat dry. For longest-lasting relief, smooth ointment gently over affected external area. To treat internal hemorrhoids, remove cap from tube and lubricate applicator with a small amount of ointment. Attach applicator to tube, insert into rectum, and squeeze gently to release medication. Wash applicator with soap and hot water after use. Repeat every four hours, or as needed, and after every bowel movement. Read insert for complete directions before use.

Medicinal Ingredients: Pramoxine hydrochloride (1.0%), zinc sulfate monohydrate (0.5%)

Non-Medicinal Ingredients: Calcium phosphate, mineral oil, oleth-2, parabens, petrolatum.