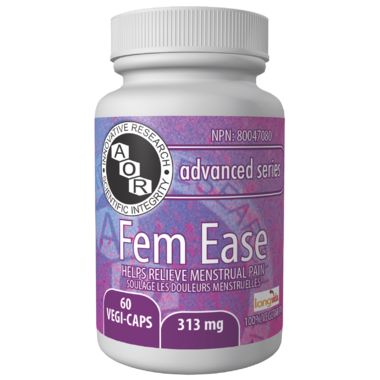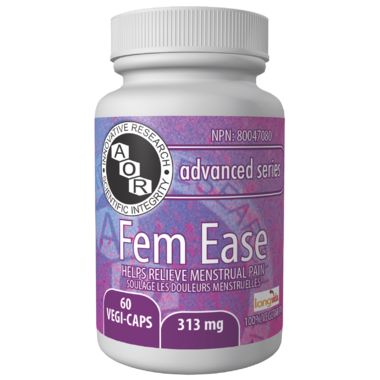 - We're sorry, this product is no longer available!
- Shop for other products in: Menstrual

A Natural Solution for Menstrual Pain
Powerful, natural muscle pain formula
Helps relieve menstrual pain and cramping
Reduces menstrual headaches
Clinically backed ingredients and doses

Directions: 
For menstrual pain relief, take 3 capsules two to three times daily, 2 days prior to menstruation until 3 days afterward. For pain and inflammation relief, analgesic or sedative effects, take 3 capsules one to three times daily. Take with food, or as directed by a qualified health care practitioner.

Ingredients:
Magnesium (bisglycinate) 100 mg; Longvida® Optimized Curcumin* (Curcuma longa root 25-30:1) 40 mg; California Poppy extract (Eschscholzia californica 10:1) 20 mg; L-Carnitine (tartrate) 680 mg; Ginger extract (Zingiber officinale 10:1) 100 mg
*Longvida® is a registered trademark of Verdure Sciences Inc. International patent pending.
Non-medicinal ingredients: stearic acid, ascorbyl palmitate, soy lecithin, maltodextrin, gum Arabic, microcrystalline cellulose, silicon dioxide. Capsule: hypromellose.

Caution:
Do not use if you are pregnant. Consult a health care practitioner prior to use if you are breastfeeding, taking antiplatelet medication or blood thinners, if you have gallstones, a bile duct obstruction, stomach ulcers, excess stomach acid, liver or kidney disease, or a seizure disorder. Consult a health care practitioner if symptoms persist or worsen. Some people may experience drowsiness. Exercise caution if operating heavy machinery, driving a motor vehicle or involved in activities requiring mental alertness. Consumption with alcohol, other medications or natural health products with sedative and/or analgesic properties is not recommended.

Gluten Free, non-GMO, Vegan, Contains no wheat, gluten, peanuts, sesame seeds, sulphites, mustard, dairy, eggs or any animal byproduct.