BONUS! 50% More
90 Vegie-Softgels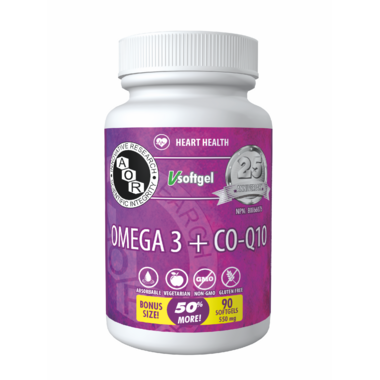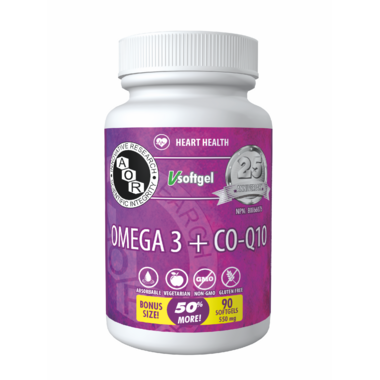 AOR Omega 3 + CO-Q10
BONUS! 50% More
90 Vegie-Softgels
- We're sorry, this product is no longer available!
- Shop for other products in: Omega Fatty Acids

Provides the synergistic effect of CoQ10 and Omega-3 Allows you to get your omega-3 fatty acids with your CoQ10
CoQ10's antioxidant activity helps protect the omega-3 fatty acids, preventing them from going rancid.
Reduces the cardiovascular risk factors that can lead to heart disease
Complete omega-3 formulation for vegetarians and vegans

Directions:

Take 2 softgels daily with or without food, or directed by a qualified health care practitioner. Consult a health care practitioner prior to use if you are pregnant, breastfeeding, taking blood pressure medication or blood thinners.

Ingredients:
Schizochytrium oil 1000 mg (EPA 246 mg*; DHA 316 mg*; EPA DHA 562 mg*) Total Omega-3 606 mg*
100 mg Coenzyme Q10 (ubiquinone-10)
*Typical values: Ranges - EPA 150-300 mg, DHA 300-400 mg, EPA DHA 500-600 mg, Total Omega-3 550-700 mg.

Gluten Free, non-GMO, Vegan, Contains no wheat, gluten, nuts, peanuts, sesame seeds, sulphites, mustard, dairy, eggs, fish, shellfish or any animal byproduct.