A.Vogel Heart Care Hawthorn Berry Tincture


A.Vogel Heart Care Hawthorn Berry Tincture improves the flow of blood to the heart and pushes blood more effectively out of the heart and into the arteries. It is used as a heart care tonic.
Features:
Heart tonic
sugar free, gluten free, lactose free, natural, vegan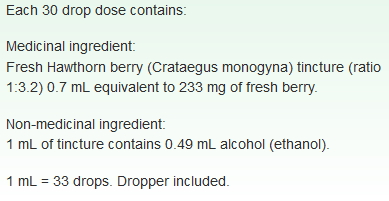 Adults:
Take 30 drops with water, 3 times daily, 15 minutes before meals. Insalivate before swallowing.

Caution:
Consult a healthcare practitioner prior to use if you are taking cardiovascular medications.
For prolonged use, consult a healthcare practitioner.
Not recommended during pregnancy or nursing.
Avoid taking in case of known allergy to any of the ingredients in the product.
Do not use if security cap is broken. Keep out of the reach of children.