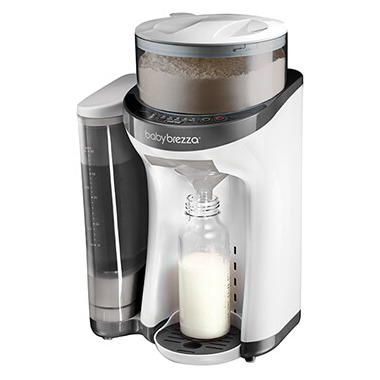 Description
Say goodbye to the time and hassle of manually preparing baby's bottles. Introducing Baby Brezza Formula Pro, the revolutionary new way of preparing your baby's formula bottles.
The Formula Pro uses worldwide patent-pending technology to measure, dispense and mix water and powdered formula to the perfect temperature and consistency. With the push of a button, you can prepare a bottle within seconds that has no air bubbles.
The water and formula powder are stored right in the machine, so its always ready for you when your baby gets hungry. The machine works with all bottle sizes and all formula brands and types. You can also choose the amount of formula you want to make: 2, 4, 6, 8 or 10 ounces. The easiest way to prepare baby's bottles is now right at your fingertips.
Features:
Hassle free formula preparation: no measuring, no mixing, no fuss
Patent-pending mixing technology: mixes formula powder and water to perfect consistency without air bubbles
Temperature control: heats water to near body temperature, the optimal temperature for feeding baby
Airtight formula storage: holds 700g of formula powder to prepare 20 8-ounce bottles
Works with all bottle sizes and all formula brands and types
Shipping & Returns