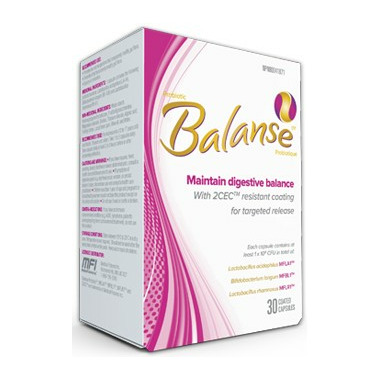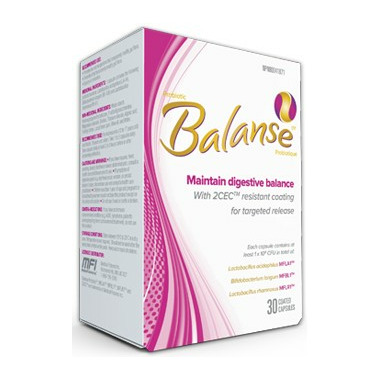 Balanse Probiotic is the targeted probiotic that helps with the daily maintenance of a healthy and normal functioning digestive system.
Balanse Probiotic contains three specially selected probiotics in capsule form with the patented 2CEC resistant coating to ensure the targeted delivery of the probiotics directly to the colon where probiotics work best.
Medicinal Ingredients:
1 capsule contains the following probiotic bacteria: Lactobacillus acidophilus (LA-14), Bifidobacterium longum (BB-536) and Lactobacillus rhamnosus (PB-01)
Non-medicinal Ingredients:
Maize starch, Hydroxypropylmethylcellulose, Fructooligosaccharides, Magnesium stearate, Shellac, Titanium dioxide, Alginic acid, Triethyl citrate, Locust bean gum, Olive oil and Water.
Recommended Dose:
For Adolescents (12 to 17 years old) and Adults (18 years and older):
Take 1 to 2 capsules daily.
Take capsule orally at least 2 to 3 hours before or after consuming antibiotics.
Cautions and Warnings:
If you have nausea, fever, vomiting, bloody diarrhea or severe abdominal pain, consult a health care practitioner prior to use.
If symptoms of digestive upset (e.g. diarrhea) occur, worsen, or persist beyond 3 days, discontinue use and consult a health care practitioner.
Children less than 1 year of age and pregnant or breastfeeding women should not take this product except on the advice of a doctor.
Do not use if seal on bottle is broken.
Contraindications:
If you have an immune-compromised condition (e.g. AIDS, lymphoma, patients undergoing long-term corticosteroid treatment), do not use this product.