Band-Aid
Band-Aid Advanced Healing Blister for Fingers & Toes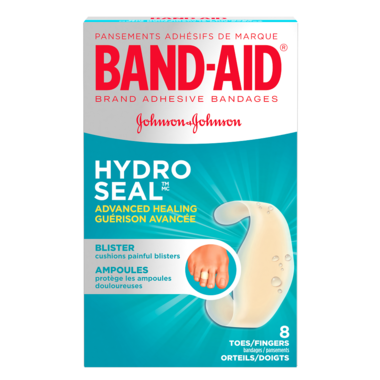 Band-Aid
Band-Aid Advanced Healing Blister for Fingers & Toes
8 Bandages
Band-Aid Advanced Healing Blister for Fingers and Toes
is rated out of
5
by
119
.
---
Description
Band-Aid Brand Hydro Seal Blister Toes Bandages help keep germs out and your body's natural healing power in using hydrocolloid technology. Within 24 hours of application, a white bubble will form under the bandage which shows that the healing process has begun.

These waterproof bandages provide advanced wound care and cushion to help protect blisters. Cushioning provides protection and relief from painful blisters and wounds. Ideal for use on toes, these bandages deliver multiday protection and stay on even when putting on shoes and through showers. This package contains 8 individually wrapped Hydrocolloid Gel Bandages, each measuring (1.7 cm x 6.6 cm).

Features:

Dual-Action Seal: Helps keep germs out and your body's natural healing power in
Stays on for multiple days, even through hand washing and showers
100% Waterproof
Ideal for use on toes
Not made with natural rubber latex.
Instructions for Use: Before Use, see instructions inside of box
To ensure the bandage properly adheres, it is recommended that you do not apply creams, ointments or lotions to the wound. Carefully remove the white paper tabs and apply the gel bandage directly on the wound. There is no pad. The Dual-Action seal that is formed provides the optimal healing environment. Within 24 hours of application the product will begin to swell and a white bubble will appear over the wound. This signals that your body's natural healing process has begun. This bandage is designed to deliver multi-day protection. You can wear it until it begins to detach. If removal is required, carefully loosen one end by stretching it along the skin. Do not pull upwards.

Caution: Those with diabetes or poor circulation should use under doctor's supervision. Do not use on fragile skin, burns, stitches, infected areas, deep puncture wounds, existing scabs or on children under 2 years old.
Sterile unless individual wrapper is opened or damaged

Rated

4

out of

5
by
jennie
from
Banish Boot Blisters
These are great and I keep a few in my purse for when I'm out all day with a new pair of footwear and desperately need to fix the sudden blister problem. It's the worst getting boot blisters going for a walk outside and having nothing to stop it till you get home. So these are perfectly shaped to cover them and stop the rubbing, and to cover any stingy exposed parts. They are also good to use with a new pair of footwear that I think might give me problems before they've been worked in, so I have put these on the backs of my heels as a preventative before a long tough day out. And they're a good stick and never slide off.
Date published: 2016-12-14
Rated

5

out of

5
by
Anglewings
from
Holds in place,no need to worry about Bandage moving
Advanced Healing Blister Cushions are a true God Send for me. I was in such a bad state last week from doing something very stupid.I had just purchased a new pair of Flip Flops and they were the perfect size only,when I would walk,the top would rub into my foot causing a big blister.I didn't want it to break so since I was out shopping anyway,I went into a drug store and bought the Blister Cushions.What a relief.All thanks to Band-Aid.I must say for something so inexpensive,can certainly relieve a lot of pain.Needless to say,the blister did break on its own and I wore the cushion for a few days until it healed.Thank goodness for Bandaid,I would definitely recommend this product.
Date published: 2016-07-21
Rated

4

out of

5
by
kathee
from
must have for blisters
Wore a really tight fitted shoes for an entire day. Ended up with 2 big blisters near the back soles of my feet. Too afraid to pop and too scared to leave it be. So I used these and it help me ease up the discomfort. Its a bit pricey but always good to have for emergencies especially wedding season.
Date published: 2016-07-04
Rated

5

out of

5
by
Karyn19
from
I just used these when I broke in my flip flops for the summer!
Not only did they help my blisters heal much faster but they also stayed put on the bottoms of my feet and allowed me to continue wearing my flip flops as my blisters healed absolutely pain free!
Date published: 2016-06-22
Rated

5

out of

5
by
ChelseaW
from
These are the Hail Mary of bandaids
I was in Chicago for 4 days, and we had to walk everywhere. I got like 6 of THE WORST BLISTERS EVER. Some even popped, making it excruciatingly painful to walk, or have any type of shoe on. Normal bandaids made it worse. I picked up a box of these, and I can honestly say, when I put them on my blisters, I could not feel any pain from the blisters. Whatsoever. I could walk without pain. I could even wear heels with these on! They last a long time, which is great! And it gives by far the best comfort thrre is to get. Highly recommend these. 100%
Date published: 2015-09-25
Rated

5

out of

5
by
Glenn
from
Greatest Thing Since Sliced Bread(Otto Rohwedder - 1912)
My hands and shins have minds of their own. I can hardly remember a day when I didn't have on a Band-Aid. I recently had a thumbnail size scrape on my leg completely heal in a week with minimal scarring. I can't believe that other reviews are 2 to 4 yrs old. I have been using the bandaids for about a year and can't understand why you make any other type. In that time I have seen a few different types of package labeling and my fear is that you might discontinue the line if it is not selling well. If you use the proper size and hold your hand over it to warm and seal, it does not come off. It is one of the best features. I urge you to do a proper Ad campaign, as none of my circle of friends has heard about it and I am getting tired of trying to convince them the world is not flat!!
Date published: 2019-01-18
Rated

5

out of

5
by
tdish
from
Relief
These are great to have especially with new shoes. The cushioning provides a barrier between the blister and shoe to allow it to heal without irritating it more.
Date published: 2016-03-13
Rated

5

out of

5
by
Antitam
from
Blister relief.
I always keep a box of Band-Aid Healing Blister Cushions in my first aid kit. They are great when you are breaking in those new shoes you just had t have.
Date published: 2016-06-06