Barlean's Kid's Fish Omega Swirl Lemonade Flavor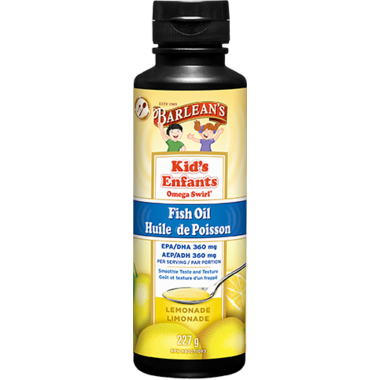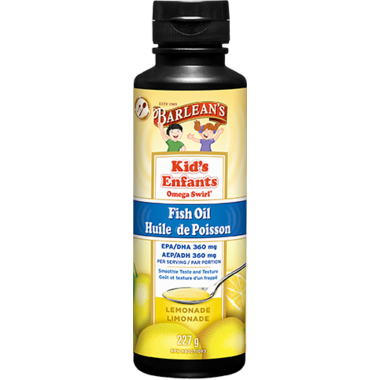 Barlean's Kid's Fish Omega Swirl Lemonade Flavor
Omega Swirl fish oils allow everyone to enjoy the benefits of Omega-3 without any fishy taste or oil texture - or large capsules to swallow. With its delicious fruit smoothie taste and texture, it's the perfect solution for the whole family!
Benefits and Features:
360 mg EPA/DHA Per Serving
Made with Barlean's Fresh Catch Fish Oil
Purity Guaranteed – Ultra Purified
Delicious, Lemon Zest Smoothie Taste & Texture
No Artificial Flavors or Colors
No Sugar– Sweetened Naturally with Xylitol
Proprietary Amplified Absorption Emulsification Technology for Improved Nutrient Absorption
Recommend Dosage:
1 tsp daily. Can be taken straight or mixed into juice, yogurt, oatmeal, cottage cheese or blended beverages.
Ingredients
: Water, fish oil (anchovy, sardine and/or mackerel), xylitol, glycerine, gum arabic, natural flavors, citric acid, xanthan gum, guar gum, antioxidant blend Vitamin E (as d-alpha tocopherol), rosemary extract, and ascorbyl palmirate), turmeric, and sorbic acid.
Dairy Free, Soy Free, Suger Free, Gluten Free, Non-GMO Keep out of reach of Children.